Supply rises as farmers harvest crops amid fear of spoilage on expectations of early showers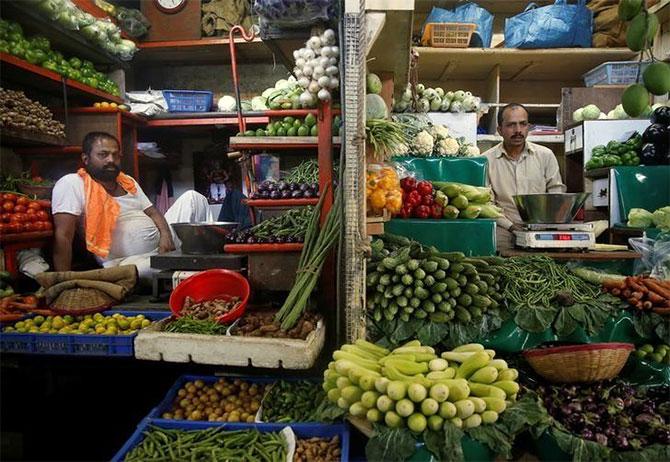 Vegetables prices have declined by up to 45 per cent over the past two weeks because of increasing supply.
Farmers are rushing to harvest pre-matured crops, amid fears of crops going bad because of intense heat and on expectations of early seasonal rainfall.
Data compiled by the government-owned National Horticulture Board (NHB) showed okra prices fell 45 per cent in the Delhi wholesale market over the past two weeks.
The vegetable's prices plunged to trade at Rs 10.75 a kg on May 26 from Rs 19.50 a kg on May 12. Bitter gourd price in Mumbai's wholesale market plunged 22 per cent to Rs 18 a kg on May 26 from Rs 23 a kg two weeks ago.
Vegetable prices fell in retail markets, too. Bitter gourds became cheaper by 25 per cent and 27 per cent, respectively, in Mumbai and Chennai, according to NHB.
Experts said pre-season stormy rainfall in many parts of the country have prompted farmers to harvest pre-matured crops. Apart from that, intense heat waves in major growing states, including Maharashtra, have reduced moisture and, thereby, the shelf life of vegetables, resulting in more spoilage.
"So, farmers are harvesting just 75-80 per cent of matured crops," said Shri Ram Gadhave, president of Vegetable Growers' Association of India.
"This means, they do not want to wait for crops to mature, during which time a number of diseases might also start spreading. Farmers face the risk of losing the entire crop if there is an outbreak. So, they harvest pre-matured crops, which fetch lower prices than fully ripe crops."
Arrivals of brinjal increased 94 per cent to 35 tonnes in Kolkata in the past two weeks. Supply of cauliflower jumped 128 per cent to 98 tonnes in Ahmedabad wholesale markets, the NHB data showed.
"Vegetables like cauliflowers, okras and tomatoes are highly perishable and need protection from rainfall and excessive heat," said a senior official at the Agricultural Produce Market Committee (APMC), Vashi.
"In both cases, chances of spoilage increase. Farmers have had to dump their produce on the road when vegetables sell at prices lower than what they have invested. Hence, it is important that some money is realised even if it means vegetables are harvested early."
Rajiv Tevtiya, managing director of RML AgTech, a city-based agriculture consultancy firm, said, "Vegetable prices had jumped 25-30 per cent over the past few weeks and a correction was due. Apart from that, availability of mangoes has reduced demand of green vegetables resulting in price fall."
Sanjay Bhujbal, a Vashi-based wholesale vegetable trader, attributed the price decline to a forecast of bumper output this year, too. The Ministry of Agriculture in its first advanced estimates, forecast vegetable output at 168.6 million tonnes for the marketing season 2016-17, 0.3 per cent lower than the production reported the previous year.
Tomato output is estimated to increase 1 per cent to 18.9 million tonnes for 2016-17.
Photograph: Shailesh Andrade/Reuters