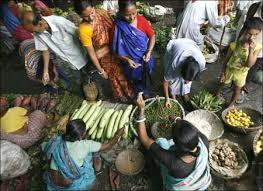 Despite the prices of a number of primary vegetable remaining subdued in wholesale mandis, these are being sold at more than Rs 100 a kg in retail markets.

For many of these, the prices have risen 150-200 per cent since June, putting pressure on Consumer Price Index-based inflation.

Vegetables account for 5.44 per cent of the CPI.

Cauliflower and okra (bhindi) are being quoted at Rs 120 a kg here, as well as suburban markets, while ginger is priced at Rs 150 a kg and green peas Rs 160 a kg.

Data compiled by Agmarknet, under the Directorate of Marketing & Inspection, Ministry of Agriculture, showed the prices of these vegetables at the wholesale market here stood at Rs 15 a kg, Rs 37 a kg, Rs 72 a kg and Rs 90 a kg, respectively.

"The dramatic rise in retail prices is understandable in some cases such as cauliflower and cabbage, where weight loss stands at 50 per cent and 30 per cent, respectively.

Arhatiyas procure these vegetables from farmers and sell to stockists as full plants, with big leaves and stems.

Stockists remove leaves and stems, along with the unwanted portion of the plant, to make the flower attractive, resulting in a huge loss in weight.

That apart, arhatiyas pay mandi tax, loading and unloading, as well as to local authorities, including municipal corporations, which costs them Rs 5-7 a kg extra.

Considering this, stockists should not sell these vegetables 150 per cent higher than the wholesale price,"
said Avinash Patil, deputy director of the Vashi Agricultural Produce Marketing Committee, responsible for the vegetables segment.
For vegetables such as aubergine (brinjal), bitter gourd and capsicum, there's no weight loss, though a small quantity is lost in transportation.
Therefore, while selling to stockists, mandi arhatiyas often offer a marginal discount to market prices, keeping in mind the loss.
"The retail price of more than Rs 100 a kg, five-six times higher than the wholesale price, is unjustifiable," said Patil.
While the prices of cauliflower are a staggering eight times higher in the retail market (against wholesale prices), okra and peas are priced at four times and twice the wholesale market rates, respectively.
Union Food Minister Ram Vilas Paswan has attributed the rise retail prices to middlemen (arhatiyas).
Speaking to
Business Standard
recently, Paswan had said the government would do everything possible to keep food and vegetables prices under control.
"There is no government control on local retailers. Consequently, retailers first create rumours such as supply shortage and crop damage to create fear in the minds of consumers and justify the price increase.
"So far, they have been successful," said a senior official with a public sector vegetables monitoring company. "The government must ensure its measures reach consumers."