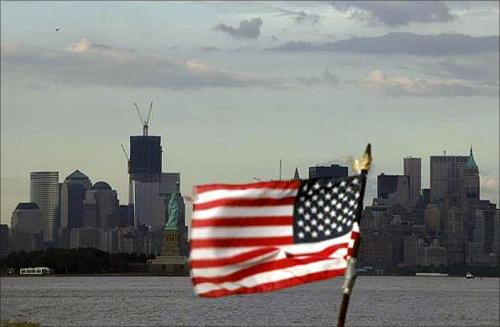 The US trade deficit in December widened sharply to its highest level since 2012 as a stronger dollar appeared to suck in imports and weigh on exports, which could see the fourth-quarter economic growth estimate revised lower.
The Commerce Department said on Thursday the trade deficit jumped 17.1 percent to $46.6 billion, the largest since November 2012. It was the biggest percentage increase since July 2009.
Economists polled by Reuters had forecast the trade deficit falling to $38 billion. When adjusted for inflation, the deficit widened to $54.7 billion from $48.7 billion in November.
December's surprise surge in the trade gap suggested a downward revision to the fourth-quarter gross domestic product estimate. The government reported last week that GDP expanded at a 2.6 percent annual rate, with trade estimated to have subtracted 1.02 percentage point from growth.
"This brings considerable downside risks to GDP revisions, likely shaving 0.3 percentage point," said Gennadiy Goldberg, an economist at TD Securities in New York.
While trade is on the back foot, the labor market is holding up. Initial claims for state unemployment benefits increased 11,000 to a seasonally adjusted 278,000 for the week ended Jan. 31, the Labor Department said in a separate report.
The increase, which was less than economists' expectations for a rise to 290,000, left intact the bulk of the prior week's huge decline, which had taken claims to their lowest level since April 2000.
The four-week moving average of claims, considered a better measure of labor market trends as it irons out week-to-week volatility, fell 6,500 to 292,750 last week.
U.S. stock index futures held gains after the data, while prices for U.S. Treasuries extended declines. The dollar was weaker against a basket of currencies.
Firming labour market
January's employment report to be released on Friday will likely show that nonfarm payrolls increased 234,000, according to a Reuters survey of economists, which would be the longest stretch of job gains above 200,000 since 1994.
A firming labor market, together with lower gasoline prices, is seen bolstering consumer spending, which is expected to drive growth in early 2015.
In a sign of the consumer-driven strengthening in domestic demand, imports rose 2.2 percent to $241.4 billion in December. Imports of non-petroleum products surged to a record high, also reflecting the strength of the U.S. dollar.
But with the dollar's rise, exports slipped 0.8 percent to $194.9 billion in December, an eight-month low.
A range of companies, including Procter & Gamble Co, the world's largest household products maker, and Microsoft Corp have warned that the dollar was hurting profits.
Exports have been hurt by slowing growth in Asia and Europe, a strengthening dollar, as well as a labor dispute at U.S. West Coast ports, which has been cited by some manufacturers as causing delays in the movement of goods.
Exports to Canada and Mexico - the main U.S. trading partners - fell in December. In contrast, exports to Japan, China and the European Union rose in December.
The politically sensitive U.S.-China trade deficit fell 5.5 percent to $28.3 billion.

(Reporting by Lucia Mutikani)