Next week, US Secretary of State John Kerry travels to India for the fourth annual US-India Strategic Dialogue.

A bipartisan group of more than 170 US lawmakers joined with a coalition of US business groups on Tuesday to demand increased US pressure on India to change policies that they said threaten American exports, jobs and innovation.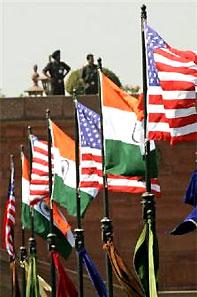 "Over the last year, Indian policymakers and courts have taken a series of actions designed to block imports by forcing local production of a wide range of manufactured goods," the lawmakers from the House of Representatives said in a letter to President Barack Obama.

The Indian government's use of "compulsory licenses" and other actions to revoke patents held by US drug manufacturers is of great concern "because innovation and the protection of intellectual property are significant driving engines of the US economy," the lawmakers said.

Next week, US Secretary of State John Kerry travels to India for the fourth annual US-India Strategic Dialogue.

On Tuesday, 14 US business groups launched a coalition to press the Obama administration to address a growing list of Indian trade irritants.

"Today we are calling on the Obama administration to raise concerns immediately at the highest levels of the Indian government and to press for real results," Linda Dempsey, vice president for international economic affairs at the National Association of Manufacturers, told reporters.

"If India does not act swiftly to comply with its international obligations, we believe that all trade and diplomatic options must be on the table," Dempsey said in a conference call to announce the groups' coalition, the Alliance for Fair Trade with India.

The congressional letter was the latest in a series of actions that shows India vies with China as the top focus of congressional trade concerns. Last week, the top Democrat and Republican on the Senate Finance Committee also urged that Kerry raise trade concerns on his visit.

The business groups - which also include the Pharmaceutical Research and Manufacturers of America, Motion Picture Association of America, Biotechnology Industry Association, National Foreign Trade Council and Solar Energy Industries Association - complained India was trying to boost its domestic manufacturers at the expense of foreign suppliers.

It has done that through a variety of means, including local content requirements, court decisions that invalidate valuable drug patents held by US companies and failure to stop piracy of US music, movies and software, the groups said.

"This trend is bad for India, it's bad for investment and it's bad for international trade," said Mark Elliot, executive vice president of the US Chamber of Commerce's Global Intellectual Property Center.

"India is the international outlier" when it comes to protection of intellectual property, he said.

Dempsey and Elliot acknowledged it was unusual for their groups to form a coalition directed at one particular country.

As difficult as US-China trade relations have been, the US Chamber of Commerce and National Association of Manufacturers never forged an alliance dedicated to addressing those trade concerns.

But "over the last year, 18 months, we've just seen action after action that really is about discriminating against foreign exports, inputs and sales into the Indian market," Dempsey said.

The United States has already filed one case against India at the World Trade Organization against solar energy policies that it says unfairly discriminate against foreign firms.

Some US lawmakers have suggested removing India from the US Generalized System of Preferences program to express US concern. That program waives duties on billions of dollars of India's exports to the United States.