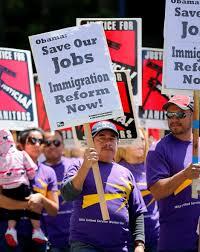 The Republican-controlled House of Representatives has voted to block funding for President Barack Obama's executive order to protect about millions of undocumented immigrants from being deported and allow them to work legally in America.
The measures passed 236-191 votes immediately drew sharp reaction from the White House.
"This vote is bad policy.
"It is essentially a vote for amnesty. It is also bad politics," White House Press Secretary Josh Earnest said.
"House Republicans are mucking around with DHS funding just weeks before the funding deadline.
"There's never a good time to muck around with the funding of the department of homeland security, but given the events of the last week, this seems like a particularly bad time to do so," Earnest said.
In a rare floor speech in support of the legislation, House Speaker John Boehner, quoted 22 times when US President Barack Obama said he didn't have the authority to unilaterally rewrite immigration law.
"We are dealing with a president who has ignored the people, ignored the Constitution, and even his own past statements," he said.
"If President Obama's unilateral immigration amendments are not stopped, future presidents will continue to expand the power of the executive branch and encroach upon individual liberty," House Judiciary Committee Chairman Bob Goodlatte said.
"The time is now for Congress to take a stand against these abusive actions," he said.
The Obama Administration slammed the Republicans for the legislation to block president's executive actions.
"The House has essentially complicated an effort to fund the Department of Homeland Security with amendments that are not relevant and which prevent both the implementation of the pending executive actions as well as reversing the Deferred
Action for Childhood Arrivals programme, which has allowed 600,000 people to come forward, pass background checks, become taxpayers, get work authorisation and become fully contributing members of our society and economy," said Cecilia Muoz, the White House Director of Domestic Policy.
The administration, she said, has made clear that if this legislation were to reach the President's desk that he would veto it.
Senator Tom Carper, Ranking Member of the Senate Committee on Homeland Security and Governmental Affairs, said instead of passing a straightforward, clean full-year funding bill for the Department, the House has sent the Senate a bill that includes a number of amendments aimed at undermining the President's immigration policies.
"These amendments will unfortunately jeopardise passage of the bill and threaten to prolong the debilitating budget uncertainty facing the Department of Homeland Security," he said.