The US House of Representatives has narrowly approved a bill extending the federal borrowing limit without any string, which the White House described as a positive step in moving away from the political brinkmanship.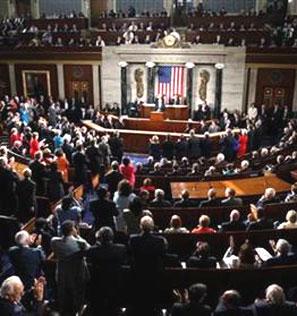 The House voted 221-201 to waive the .2 trillion debt limit for just over a year.
"The American economy is moving forward, but there is much more to do to ensure that more middle class Americans – and those striving to get into it – can get ahead," White House Press Secretary Jay Carney said soon after the House approved a year-long suspension of debt limit.
"Congress can start by raising the minimum wage so that no one who works full time raises their family in poverty, restoring emergency unemployment insurance for the 1.7 million Americans searching every day for a job who need this vital lifeline to support their families, and taking additional steps to strengthen our economy and restore opportunity for all Americans," Carney said.
House Majority Leader Eric Cantor said Republicans are the only ones who acknowledge the debt crisis and have repeatedly attempted to help reverse the dangerous spending trend in Washington.
"While controlling only one chamber of one branch, we've successfully cut spending and passed bills to encourage economic growth," he said.
"It is clear that President (Barack) Obama and Congressional Democrats prefer to spend more, incur more debt and embrace a new normal of slow economic growth and joblessness, and that is unacceptable. House Republicans need more responsible and willing partners in Washington so we can finally and boldly address our long term debt crisis," Cantor alleged.
Senate Majority Leader Harry Reid said the Senate would pass the bill that would eliminate any chance of default on $17.2 trillion in debt.
Obama will sign the bill into law after it is passed by the Democratic-controlled Senate, which is expected to pass it on Wednesday.
"It's a disappointing moment," House of Representative Speaker Joe Boehner said before the vote as he attacked Democrats for refusing to pair spending cuts with the debt-limit increase. "This is a lost opportunity," he said.
The passage of the bill is considered as a set-back for the Republican Party, which has majority in the House of Representatives.
The vote comes four months after the US defused a government shutdown and debt crisis.