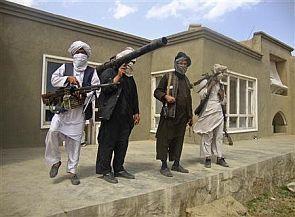 The United States has asked Taliban to put down arms and begin peace talks as it condemned the suicide attack on a popular Kabul restaurant that killed 21 people, including several foreign nationals.
"We call again on the Taliban to put down their arms and begin peace talks which is the surest way to end the conflict in a peaceful manner," White House Press Secretary Jay Carney said in a statement on.
A British politician of Indian-origin was among 21 people killed in a Taliban suicide attack Saturday evening.
"There is no possible justification for this attack which has killed innocent civilians, including Americans, working every day to help the Afghan people achieve a better future with higher education and economic assistance at the American University, United Nations, International Monetary Fund and other organisations," he said.
While lauding the "quick and skillful response" of Afghan security services in the aftermath of the attack, Carney offered condolences to the bereaved families.
"We send condolences to all the victims of the attack and their families and pray for a speedy recovery for those injured," Carney said.
United Nations Secretary General Ban Ki-moon described the gruesome attack as another sad moment for the international body.
"I extend my deepest condolences to the families of Basra Hassan of the United States, Nasrin Jamal of Pakistan, Khanjar Wabel Abdallah of Lebanon and Vadim Nazarov of Russia. And I also wish all the best and speedy recovery to all the wounded people," Ban told reporters.
Promising that all perpetrators will be brought to book Ban said, "On many occasions I have condemned in the strongest possible terms the reckless terrorist attacks against civilians. This is totally unacceptable and this is a violation of international humanitarian law."
"As the United Nations mourns this terrorist attack and its victims we remain committed to work for the peace stability and development of Afghanistan."
"We fully support the transition of Afghanistan toward a better future in peace development and security," Ban said.
Extending deepest condolences to the families and friends of the victims State Department spokesperson, Jen Psaki said the US and its international partners remained steadfast in their commitment to the people of Afghanistan and support their efforts toward peace, reconciliation, and a secure stable and prosperous nation.
"With this despicable targeted attack on innocent civilians terrorists continue to demonstrate blatant disregard for life and for the peaceful prosperous future Afghans want and are working so hard to achieve," she said.