RBI said the outlook for economic growth for 2016-17 has turned uncertain after the unexpected loss of momentum by 50 basis points in Q2 and the effects of the withdrawal of banned notes. Anup Roy/Business Standard reports from Mumbai.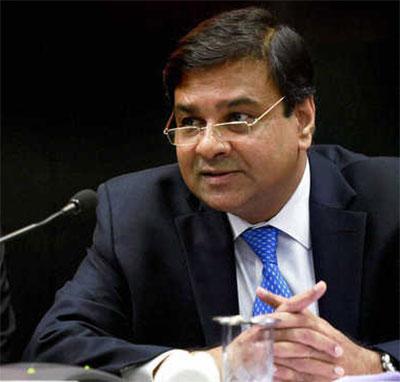 The monetary policy committee headed by Reserve Bank of India Governor Urjit Patel on Wednesday unanimously decided to keep the policy rate unchanged at 6.25 per cent, considering financial volatility related to an interest rate hike in the US and demonetisation at home.
RBI's monetary stance remained accommodative, but it warned that inflation could rise again. Only two of 12 economists and bankers polled by Business Standard had said they expected RBI to hold interest rates and the bond market had factored in a cut of a quarter of a percentage point.
The yield on the 10-year gilt closed at 6.41 per cent after the announcement, up from its previous close of 6.20 per cent. This is the steepest rise in bond yields since September 23, 2013, when RBI had hiked short-term rates by 300 per cent.
Key indices on the stock market fell sharply after the policy announcement at 2.30 pm IST, with the BSE Sensex declining 0.6 per cent and the BSE Bankex losing about one per cent.
RBI also withdrew the recently imposed incremental cash reserve ratio from the fortnight starting December 10. Banks will not be compensated for the higher CRR.
RBI is issuing bonds of up to Rs 6 lakh crore under the market stabilisation scheme to sterilise excess liquidity garnered through scrapped notes. Till date, banks have received Rs 11.55 lakh crore of deposits against the Rs 15 lakh crore the government has scrapped.
"Banks will no longer have to bear the burden of the incremental CRR, as they have been compensated with the coupon on MSS securities," Patel said during the post-policy press conference.
The RBI's monetary policy document said the committee members decided not to lower rates given the imminent tightening of monetary policy in the US, which is triggering bouts of volatility in financial markets.
The US Federal Reserve is expected to raise rates at its meeting next week. This is likely to result in an outflow of dollars from emerging markets as interest rates converge.
RBI said the outlook for economic growth for 2016-17 has turned uncertain after the unexpected loss of momentum by 50 basis points in Q2 and the effects of the withdrawal of banned notes which are still playing out. RBI deputy governor Michael Patra said the impact of demonetisation could be 15 basis points on growth, but would be a transitory phenomenon.
"While supply disruptions in the backwash of currency replacement may drag down growth this year, it is important to analyse more information and experience before judging their full effects and their persistence - short-term developments that influence the outlook disproportionately warrant caution with respect to setting the monetary policy stance," the statement monetary policy statement said.
It added if the effects of demonetisation were to be transient, growth should rebound strongly. The RBI now estimates economic growth for 2016-17 at 7.1 per cent, down from the 7.6 per cent it had projected earlier.
"The decision of keeping the repo rate unchanged was surprising, given the sizeable demand destruction," said Arundhati Bhattacharya, chairperson of State Bank of India.
"But the combination of removal of the incremental CRR limit and MSS bonds will help banks to manage their liquidity better and bring financial stability to the system," she added.
RBI has removed the 100 per cent Cash Reserve Ratio on net deposits from December 10, 2016. It had imposed CRR for the money that flowed into deposits between September 16, 2016 to November 11, 2016, to takeout excess liquidity in the system. Now these deposits would attract normal four per cent CRR.
"Inadequate deployment avenues would lead to range-bound movement in yields," said Melwyn Rego, managing director and chief executive officer, Bank of India.
"Deposit and lending rates are expected to continue to show a downward trend," said Chanda Kochhar, managing director and chief executive officer of ICICI Bank, welcoming the withdrawal of the incremental CRR.
The RBI is committed to keep inflation within 5 per cent by March 2017 and thereafter at 4 per cent plus or minus 2 per cent, but it warned prices were not falling beyond a point and the base effect would soon reverse.