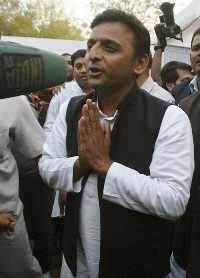 The much-awaited Uttar Pradesh Services Guarantee legislation is ready and is likely to be put before the state Cabinet in the next 15 days.
To boost industrialisation and check the flight of industry from Uttar Pradesh, the Akhilesh Yadav government is gearing up to pass the Uttar Pradesh Services Guarantee Act.

A Cabinet note of the much-awaited legislation is ready and is likely to be put before the state Cabinet in the next 15 days.

The government also plans to overhaul the concept of District Industries Centre to inculcate a pro-industry culture among officials and improve 'doing business environment' in the state.

"The state is keenly pursuing the Services Guarantee Act agenda for dispensing time-bound clearances to investment and industrial proposals and fix responsibility on officials," said Bhagwat Sharan Gangwar, minister for small industries and export promotion.

He was speaking at the fourth edition of the annual Business Standard roundtable conference 'Samriddhi 2013' to discuss the development agenda for Uttar Pradesh.

"We have implemented a single-window system for industries, but irritants remain — which are being addressed," Gangwar said.

Alok Ranjan, agricultural production commissioner and infrastructure and industrial development commissioner of UP, conceded that the concept of DIC had become obsolete and merited overhauling.

"We would introduce the concept of Bureau of Industrial Policy and Promotion in the industries wing so that they promote investment and do not just act as regulators," he said.

The state's alternative and renewable energy minister Vijay Kumar Mishra said UP had announced its first-ever solar energy policy in 2013 to promote the use of clean energy in the face of rising power demand and coal shortage.

"We are targetting 500 Mw of solar power, of which bidding for 130 Mw capacity has been completed."

He exhorted industry to come up with solar project proposals and promised faster clearances and government support.

The event witnessed the participation of select audience comprising eminent industrialists, economists, bankers and professionals to brainstorm the development agenda for UP.

Kanpur-based Shri Lakshmi Cotsyn's Chairman and Managing Director M P Agarwal rued the lack of a composite industrial policy in UP.

"The single-window clearance system does not exist in UP," he said, adding the state should inspire confidence among entrepreneurs that change of regime would not mean discontinuation of policy.

State Bank of India chief general manager Sudhir Dubey said credit was readily available for industries and without cumbersome formalities.

"SBI attaches a relationship manager with industrialists taking big loans, so that they do not face hardships."
Dubey negated the suggestion that credit deposit ratio (CDR) was low in real terms in the state.
"Big companies have their head offices in metros outside UP.
"They seek corporate loans outside of the state.
"However, they utilise these funds in their facilities located in UP. If we consider this, the CDR in UP is not low."
Ranjan blamed the general slowdown in economy for the lukewarm response to big infrastructure projects, such as the proposed Agra-Lucknow expressway, estimated to cost Rs 10,000 crore (Rs 1000 billion).
"Even the National Highways Authority of India projects have been affected due to the economic slowdown."
Image: Uttar Pradesh CM Akhilesh Yadav; Photograph: Reuters