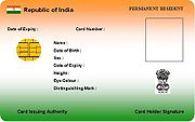 The Centre's plan for a unique biometric-enabled number to every Indian resident is facing opposition from social activists who say it will impact civil liberties - state-citizen relations and privacy.
Members of the National Advisory Council (NAC) and other organisations have expressed their dissent against the Unique Identification Authority of India (UIDAI) - the nodal agency responsible for implementing Aadhaar.
The Central Employment Guarantee Council (CEGC)) had also raised concerns, objecting to the linking of the UIDAI project to the National Rural Employment Guarantee scheme.
In a letter addressed to Rural Development Minister C P Joshi last week, Jean Dreze and Aruna Roy, members of the CEGC and NAC raised objections to the ministry's decision to link UID to job cards without consulting the council.
The UID is to be experimented first with NREGA workers linking their payments to their numbers. "It would be particularly dangerous and inappropriate to proceed with any linking before the legislative framework of the UID project has been worked out. We suggest that decisions related to the linking of UID with NREGA are put on hold in the meantime," said the letter.
Dreze told Business Standard that UID is a national security project in the garb of a social policy initiative. "I am opposed to the UID project on grounds of civil liberties. Let us not be naive. This is not a social policy initiative - it is a national security project."
He said the underlying implications of the UID was what has been stated by former intelligence Bureau Chief A K Doval in an interview to Tehelka - it was intended to wash out aliens and unauthorised people. But the focus appears to be shifting and is now being projected as a development-oriented initiative, lest it ruffle feathers.
Dreze said the UID will help achieve unprecedented levels of surveillance on ordinary citizens and this may have dangerous consequences for privacy civil liberties and social justice. Echoing Dreze's view, Roy said the project is a threat to democratic norms and civil liberties and it should be opposed.
Anil Chaudhury, a member of Indian Social Action Forum (INSAF), said the UID scheme violates right to privacy and the state can misuse it for targeted attacks and discrimination against certain communities.
Wilfred Dsouza of INSAF argued that a centralised identity pool is always fraught with risks. It can be hacked and misused by terrorists. He said the Labour Government had faced opposition from the Tories on similar grounds when it tried to introduce the Identity Cards Act 2006.
The UK Home Secretary had been quoted as saying that the "The national identity card scheme represents the worst of government. It is intrusive and bullying. It is ineffective and expensive. It is an assault on individual liberty that does not promise a great good."