To fly 10 start-ups to San Francisco HQ of the company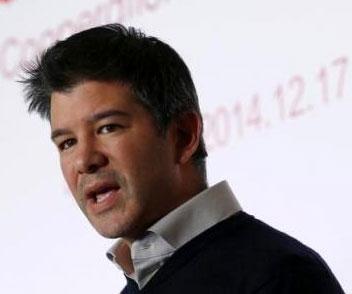 US-based cab aggregation company Uber has announced its partnership with Invest India, an initiative under the department of industrial policy & promotion. This comes a day after the government came out with top names in the new economy world who are coming for the launch of the start-up policy. Travis Kalanick, co-founder and chief exceutive of Uber, is among the start-up leaders attending the policy announcement on January 16.
Prime Minister Narendra Modi in his Mann Ki Baat radio address had mentioned that start-up policy plans would be announced on January 16.
Uber, valued at $70 billion, has decided to host six leadership talks by senior executives over the next year. This will include those based at its headquarters in San Francisco.
"Each session will address a different challenge that entrepreneurs face when founding their own company. For example, fundraising, product design, engineering and how to scale a business,'' said the company. At the end of the programme, the company intends to fly 10 start-ups heads to San Francisco, where the company will introduce them to global investors, fellow entrepreneurs and the team at Uber.
Uber had a bad start in India after one of its platform drivers was arrested for raping a woman passenger. The company is a rival to Ola, the top cab aggregator in India. Bhavish Aggarwal-led Ola has raised $1.3 billion of funds from major investors and is valued at around $5 billion.
"It is often said that entrepreneurs just need a great idea. But, coming up with an idea is almost the least important part of creating something that's great. Execution is key as is the ability to persevere through the tough times,'' Uber said in a statement about its partnership, uberEXCHANGE, with Invest India to provide mentorship for Indian entrepreneurs.
"Practical, first-hand advice can often mean the difference between success and failure when it comes to starting your own business," it added.
This public-private initiative is aimed at helping students, entrepreneurs and industry leaders to learn from each other and create a culture that "celebrates risks taking and views failure as an opportunity to learn''.
It will also support the Prime Minister's vision to make India a global start-up hub, the company said.
Kalanick will give the first talk at the inauguration of the Start-up India Initiative on January 16.
"He will speak about his own journey as an entrepreneur and how to succeed through adversity."
Image: Uber CEO Travis Kalanick. Photograph: Kim Kyung-Hoon/Reuters