Lakshmi Balachandra of Boston College and Ishani Tewari of Brown University were among 15 exceptional doctoral students honored by the Kauffman Foundation with its annual Dissertation Fellowship.

Each of them will get $20,000 to support their dissertation research in the area of entrepreneurship.

The awards were presented January 8 at the Allied Social Science Associations' annual meeting in Denver, Colorado.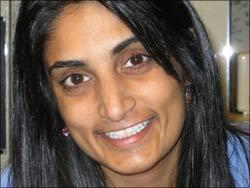 Balachandra, whose parents are from Kollegal, Karnataka, has won many awards in the past, but the fellowship is "a great honor" for her.

"In particular, it validates that others value my work, which is always tough for someone in graduate school - to find something relevant and interesting to other people," she said.

Her dissertation is on 'Pitching Trustworthiness: Cues for Trust in early stage investment decision-making'. "The focus of my research is the dynamics between entrepreneurs and investors," she explained.

"I am currently focused on behaviors that make investors invest or not invest in entrepreneurs and how the interpersonal assessment fits into the investment process. In this competitive business environment, it's important to know what can make people more competitive or less competitive, and how to improve.

We know that some part of the decision to invest by early-stage investors is based on interpersonal assessments, and in large part on evaluating the person, since the person has to run the company. I am trying to quantify and qualify the observable behaviors, both verbal and non-verbal, that predict a successful entrepreneur from the investor's perspective."

Balachandra, who studied environmental studies and economics as a University of Chicago undergraduate, felt more drawn towards economics after graduation.

"My academic switch was gradual. After college, I started a toy store (in San Diego, California), where I learned how important obtaining start-up capital is for entrepreneurs. I became fascinated with venture capital and worked in the industry for four years.

I then went to business school at MIT Sloan and received an MBA at the insistence of my previous employer - a woman partner at the VC fund where I was working - who maintained that as a woman in business, I needed to have an MBA," said Balachandra, who grew up in Needham, Massachusetts.

After business school, she started teaching leadership and became fascinated with trying to understand why some people come across as more capable leaders and can persuade investors to invest in them.

"That is how I arrived at my research," she said. "Funders will not invest in an entrepreneur if they don't trust the person with their investment and to lead the company."

Her father is a professor at Northeastern University in Boston and her mother was an entrepreneur. Does she want to become an entrepreneur or pursue academics?

"I love the process of entrepreneurship and thinking about why some entrepreneurs are more successful than others," she said.

"My interest in entrepreneurship led me to a career researching it too; in some ways academia is a very entrepreneurial environment. As a researcher, I set my own goals, schedule, and priorities. Like entrepreneurship, you have to be very self-motivated in order to succeed."

She wants a faculty position where she can do academic research as well as impact the practitioner side of things.

"I would love to start a business again," she said. "I'd love to help my husband grow his (biotech) start-up into a Fortune 500!"

She worked for two VC firms in Boston, spent six months in between the two positions as a professional stand-up comic in Los Angeles, and then went to business school.

"In addition to my PhD research work at Boston College, I also teach seminars to executives in negotiation and leadership," she said. "I have taught sessions for companies including Novartis, Genzyme, Shell and even the CIA"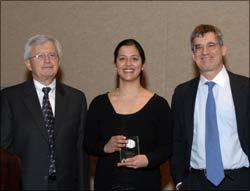 Ishan Tewari, who did a major in nuclear engineering along with economics as undergraduate, has embarked on a research topic tentatively titled 'Is Small Beautiful? An evaluation of India's Product Reservation Policy for Small-Scale Enterprises.'

She added economics as a second major during her third year at MIT. Though engineering was fascinating, she said, she wanted to study a subject that allowed her to think more about socio-economic issues and policies.

"Economics is attractive because it allows analysis of such topics in a rigorous mathematical framework," she said.

"I was also exposed to economics from a young age. My father, who is currently in the Indian Administrative Service, studied economics under Nobel Laureate Amartya Sen as did my uncle who had a long career with the World Bank and is also in the Indian government now."

For her the Kauffman Fellowship is especially prestigious because the foundation has "an amazing reputation for sponsoring top-notch research and researchers" as well as having extensive resources at its disposal.

Tewari, who was born in India and moved to North America when she was 4, did her undergraduate dissertation on the economics of nuclear waste disposal - on how to devise an optimal tariff for nuclear waste.

"Although the math education I got through my engineering major has helped me out immensely with economics, I have not been pursuing nuclear engineering topics recently, but perhaps I will do that in future," she said.

"My research focuses on the small-scale enterprise sector in India. In particular, on the impact of certain liberalization polices pertaining to it. I would like to study growth and productivity in the manufacturing sector as a result of the deregulatory policies.

The Indian setting is a very good context to study small-scale policies that are seemingly popular with governments all around the world because the government puts a lot of emphasis on promotion of the SMEs (small and medium enterprises).

The natural question that arises is whether such policies are efficient. I will be presenting some of my initial findings at a workshop at IIT (Indian Institute of Technology) Bombay in March," she said.

After MIT, Tewari - whose family lives in New Delhi - worked at the Federal Reserve Bank of Philadelphia's research department for three years and then started graduate school at Brown. She has taught development economics to undergrads at Brown. She would like to pursue academics.

"I think being a professor is a wonderful career and it would be a privilege to spend my time thinking about and analyzing problems relevant to economic growth," she said.

Tewari, who is married to a physician and loves cooking, swimming, running and yoga, aims to be an "innovative economist."

"I also want to be a good educator - inspiring college students to be curious, think a lot and work hard."