Two Indian women including Savitri Jindal and Indu Jain have been named among the list of world's top billionaires compiled by the US magazine Forbes.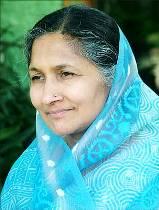 Jindal with a net worth of $12.2 billion has been ranked at 44th place in the global list, while Bennett, Coleman & Co's chairperson Indu Jain at $2.8 billion comes at 354th rank.
Jindal, the non-executive chairperson of, steel and power conglomerate, OP Jindal Group, is the fifth richest woman in the world.
Retail chain major Wal-Mart's Christy Walton is world's richest woman with a net worth of $22.5 billion, placed at the 12th position in the overall list led by Mexican billionaire Carlos Slim, with a fortune of $53.5 billion.
Walmart's Alice Walton follows as the second richest women in the list with a networth of $20.6 billion at the 16th place.
Walton is followed by L'Oreal heiress Liliane Bettencourt (with networth of $20 billion), Swedish packaging giant Tetra Laval's Birgit Rausing & family ($13 billion), and Savitri Jindal ($12.2 billion).
The Forbes list of 1,011 billionaires includes 89 women from across the globe. From India, there are just two women and 48 men.
Indian industrialist Mukesh Ambani has been named as the richest Indian and fourth richest person globally with a networth of $29 billion.