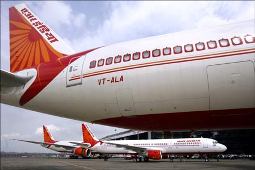 Ground handling activities and maintenance and repair of all Air India aircraft would be carried out by two new subsidiaries of the national carrier when they become operational from February 1.

The operationalisation of the Air India Transport Services Limited, which would carry out ground handling activities, and Air India Engineering Services Limited that would be responsible for maintenance, repair and overhaul activities, would slash Air India's aircraft to manpower ratio by more than half.

Air India would provide AIESL Rs 375 crore (Rs 3.75 billion) as capital expenditure over three years beginning now, while it would give Rs 393 crore (Rs 3.93 billion) over 12 years from this year to AITSL, airline sources said.

The proposal to hive off the engineering and ground handling departments of Air India to two wholly-owned subsidiaries was approved on April 12 last year by the Cabinet Committee on Economic Affairs as part of the airline's turnaround and financial restructuring plans.

The sources said the two companies would start operating as separate profit-making entities from February 1.

They would be run by the Air India Board with the airline's CMD Rohit Nandan as the chairman of the two boards.

The two companies would not only carry out their activities for Air India but would also tap other carriers operating in India and tap the potential of nearly $1.5 billion aintenance, repair and overhaul business in the Asia-Pacific
region.
Currently, a large number of Indian airplanes are sent to Singapore, Dubai or even Colombo for checks and repairs which would now on be done in the country.
Establishment of the two new subsidiaries would see over 13,000 of the 25,000 permanent employees of Air India transfer to AITSL and AIESL, taking the aircraft-to-employees ratio down from 1:219 now to less than 1:100, the sources said.
Though the employees would be transferred on deputation to the two subsidiaries, their working conditions, emoluments and welfare perks would be protected, they said.
The AITSL and AIESL would be paying royalty to Air India on the revenue they earn, but this payment would start after a few years when they start making money, the sources said.
AITSL would carry out ground handling activities for the airline at all airports around the country barring those at Delhi, Bengaluru, Thiruvanthapuram, Mangalore and Hyderabad.
These activities include passenger check-in, tagging of baggage, putting them on to the aircraft and cleaning of the plane.
It is estimated that AITSL revenues would rise to Rs 8,866 crore (Rs 88.66 billion) by 2022 from the current (pre-operationalisation) level of Rs 700 crore (Rs 7 billion), while the revenue from ground handling activities of AITSL would touch Rs 3,100 crore (Rs 31 billion) in nine years from about Rs 800 crore (Rs 8 billion) now, the sources said.
The company is projected to be a profit making company from financial year 2017-18.