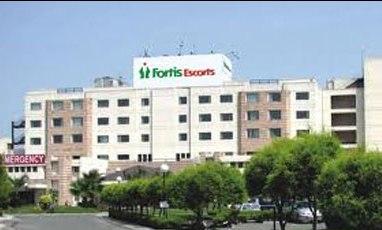 Union health ministry has suspended empanelment of Fortis Escort's Heart Institute, New Delhi's Delhi Heart & Lung Institute, two units of M S Ramaiah Memorial Hospital in Bangalore and Fortis Hospital in Jaipur
What started as a mere payment delay seems to have grown into a tussle between the government and leading private hospitals, empanelled under the Central Government Health Scheme.

Ahead of general elections, the Union health ministry has issued showcause notices to 24 private hospitals -- including brands such as Fortis, Apollo, Moolchand and Narayana Hrudayalaya -- for allegedly unilaterally deciding to discontinue credit facility to CGHS beneficiaries.

The ministry has also suspended the empanelment of five such hospitals for at least six months.

The move came in the wake of many private hospitals withdrawing the cashless facility for CGHS beneficiaries, mainly due to low rates and delays in payments.

"Twenty-four of 407 private hospitals empanelled under CGHS decided unilaterally to discontinue credit facility to the eligible categories of CGHS beneficiaries.

"Showcause notices stand issued to these hospitals and the empanelment of five hospitals has been suspended for a period of six months or till further orders, whichever is earlier," the ministry said on Wednesday.

The ministry has suspended empanelment of Fortis Escort's Heart Institute, New Delhi's Delhi Heart & Lung Institute, two units of M S Ramaiah Memorial Hospital in Bengaluru and Fortis Hospital in Jaipur.

Other leading hospitals to receive showcause notice include Hyderabad's KIMS Hospital and New Delhi-based National Heart Institute.

Most of the hospitals to come under the scanner are either in or around Delhi, Hyderabad or Bangalore.

For long, CGHS beneficiaries have been facing trouble at private hospitals, which have been refusing to entertain claims by such patients.

Hospital sources say there is distress because of delay in reimbursement of CGHS payments by the government.

"As it is, the services we provide under the scheme are at very low rates.

"And, because of delay in payments, we have to incur interest on the amount," said the owner of a leading hospital in the National Capital Region.

"Many other private hospitals have also cited payment-related problems and are likely to discontinue services to CGHS beneficiaries, sources said.

However, the health ministry maintains the situation is not grave, with most private hospitals continuing to extend the cashless facilities to CGHS beneficiaries.

It also said it had already initiated steps for clearance of pending hospital bills on a priority basis, with the pendency almost cleared.

"The ministry will ensure the CGHS-empanelled private hospitals continue to extend cashless or credit facilities to the eligible CGHS beneficiaries, in compliance with the terms (of) the Agreement signed by them with CGHS," it said.

CGHS also recently invited bids for revision of package rates through a tender process.

The last date for doing so was March 16. The ministry said steps were on to hasten the tender process.

Under CGHS, entitled government employees can avail of cashless diagnostics and treatment in hospitals, which send patients' bills directly to the government for settlement.

For this, the hospitals and CGHS enter into a contractual agreement for a certain period, under which the price tag for each medical procedure is put down.

If a hospital wants to revise any of the rates, it has to enter into a fresh agreement with CGHS.

The Centre's annual CGHS budget is around Rs 1,600 crore (Rs 16 billion), of which Rs 1,000 crore (Rs 10 billion) was for hospital reimbursements, including those for medicines, said an official.

CGHS' arrangement with private hospitals had started in the 1990s, before which the All India Institute of Medical Sciences in Delhi was the only speciality institution for government officials.

To address the long waiting period at AIIMS, the government had worked out the cashless transaction arrangement with private hospitals and increased the CGHS budget.

Currently, there are a little over four million CGHS beneficiaries.