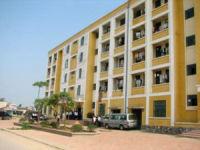 The 100-year-old Chennai-based business house, TVS Group, known for its expertise in auto, auto components and finance, is planning to take a plunge into low-cost housing.
It will do so through TVS Housing, a 100 per cent arm of TVS Motor Company, which would debut through a pilot low-income housing project at Nanmangalam, near Sriperumbudur, 50 km from Chennai.
The broad plan is to sell flats, of sizes 385-500 sq ft, at prices ranging from  Rs. 7 lakh to Rs. 10 lakh, sources close to the matter said.
That's an area where prices easily go upwards of 3,500 per sq ft.
About 2,500 flats would come up on 28 acres at Nanmangalam, according to a TVS Housing presentation.
The immediate goal is to develop one more project in Chennai. Sources said the company is now building land banks for future projects.
"The vision is to build 20,000 affordable dwellings and achieve a turnover of Rs. 1,000 crore in the fifth full year of operation," a source said.
In recent times, low-cost or budget housing segment has attracted professionals such as Jerry Rao (who founded Mphasis), Ramesh Ramanathan (ex-Citibank)
besides the Tata group.
Also, more players have emerged in the affordable housing finance segment.
In December 2009, M Anandan, former MD, Cholamandalam Investment and Finance Co, promoted Aptus Value Housing Finance along with V P Nandakumar of the Manappuram Group, to focus on low-income and affordable housing finance segment in the suburbs and semi-urban centres in the south.
Other players include Muthoot Papachan Group and Chennai-based Shriram Group.
Interestingly, this isn't the first time the TVS group is venturing into the housing space. It's the first commercial venture, though.
In 1958, the group established the TVS Co-operative Building Society to cater to the housing needs of its workers.
As of March 2007, it had over 1,700 members and a share capital of Rs. 56 lakh. It had developed two major sites in Madurai.
TVS Housing was incorporated on March 22, 2010. The TVS Group acquired the entire paid up capital of Rs. 5 lakh of TVS Housing and it became a wholly-owned subsidiary of the company effective June 21, 2010.
The TVS group, with a combined turnover of over $4 billion, has of late ventured into new areas like non-conventional power and venture capital.