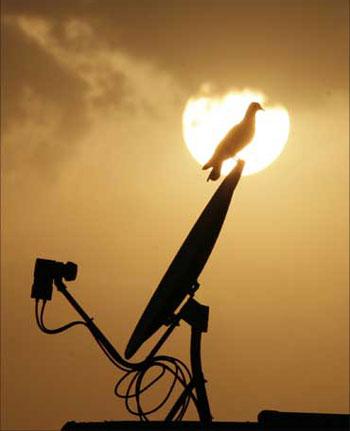 The Telecom Regulatory Authority of India (Trai) has given its recommendations on the much-awaited issue of spectrum sharing.
The recommendations, based on which the department of telecommunications (DoT) will issue the final guidelines, would only benefit incumbent operators, which have a higher quantity of airwaves across different bands.
This takes the industry a step forward towards maximum use of spectrum by operators, likely to result in seamless services for mobile users. However, the recommendations are unlikely to benefit the industry as a whole.

Analysts say the Mukesh Ambani-led Reliance Jio Infocomm, yet to start commercial operation, and Anil Ambani's Reliance Communications (RCom) won't be benefited much.
"The Trai norms do not permit spectrum sharing across spectrum bands and, hence, do not permit RCom to share its 800 MHz spectrum with Reliance Jio without the later also participating in future auctions and winning 800 MHz spectrum," Naveen Kulkarni of Phillip Capital said.
Kunal Vora of BNP Paribas said new entrants such as Reliance Jio would not get any advantage from spectrum sharing.

"If Reliance Jio wants to share spectrum with RCoM, it cannot use RCom's 800 MHz or 2,100 MHz spectrum, as it does not hold any spectrum in that band. Also, Reliance Jio cannot share the 1,800 MHz spectrum with RCom, as the latter has administratively assigned spectrum, which could restrict Reliance Jio from using 1,800 MHz to deploy long-term evolution services on that band," Vora added.
Incumbent operators such as Bharti Airtel, Vodafone India and Idea Cellular are likely to be benefited more.

"Incumbents with their vast spectrum holdings across various frequency bands are best positioned to take advantage of this regulation at a nominal cost (0.5 per cent of adjusted gross revenue as incremental spectrum usage charge). These companies could also collaborate and harmonise their existing less than five MHz contiguous auctioned spectrum holdings and launch fourth generation (4G) services. Also, where there is sharing of administratively allocated spectrum, incumbents can witness easing of network congestion," said Kulkarni.
Vora, however, said the top three operators by revenue — Bharti Airtel, Vodafone and Idea Cellular — were well positioned to benefit from potential spectrum sharing.

"We do not see any advantage for the smaller operators, such as RCom, Tata Tele or Aircel, which have mainly administratively assigned spectrum. Bharti, Vodafone and Idea are well positioned to benefit from spectrum sharing, starting with third generation (3G) sharing initially," Vora said in a note. He said the capacity of a 3G cell site with 5MHz spectrum can be enhanced three to four times by sharing, which would come at minimal incremental cost.
ICICI Securities' analysts Karan Mittal and Sneha Agarwal say as sharing is allowed across bands, it will enable operators to pool their spectrum holdings (within a band) and gain better spectral efficiency.
Bharti, Vodafone and Idea will benefit, with second generation (2G) spectrum (134-180 MHz) under administered prices, as well as 3G spectrum (45-60 MHz). The big three will not only benefit in sharing spectrum to launch in newer technologies but also ease congestion on the 2G spectrum.
Kulkarni, in the report, has noted the incumbents could collaborate and harmonise their existing auctioned spectrum holdings and launch 4G services. Sharing of administered spectrum will help ease network congestion. However, given the stipulation that only two operators can share, the 3G intra-circle roaming arrangement might face hurdles.
Other stipulations such as spectrum caps or the incremental spectrum usage charge at 0.5 per cent of aggregate gross revenues will not be major issues, they feel.
Meanwhile, sharing of spectrum may have negative impact on the tower companies as sharing would enhance efficiency which could lower the capacity driven site requirement, which would negatively impact tower companies.