'How can we be told not to grow?'
Peerzada Abrar and Neha Alawadhi report.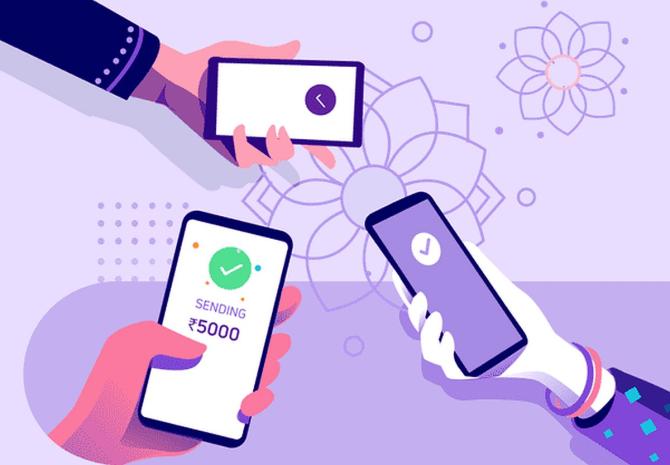 The clock is ticking for top players in the Unified Payment Interface (UPI) space.
Digital firms PhonePe and Google Pay are neck and neck at 41 per cent and 37 per cent volume of transactions on UPI, according to industry estimates.
Also, Paytm claims to have 30 per cent more transactions than other UPI-only apps (like PhonePe and Google Pay).
These figures are a challenge for these rival companies ahead of the deadline to enforce a 30 per cent cap in market share.
Industry sources said there was no clarity on how the 30 per cent cap mandated by the National Payments Council of India (NPCI) would come into effect. Companies are worried.
"It would be a terrible customer experience," an executive said.
"How can we be told not to grow?" an executive asked.
While the NPCI alert system on market share has already kicked off, existing players who have exceeded the volume cap have a window till December 31, 2022, to comply with the new norms in a phased manner.
NPCI will review their compliance on a half-yearly basis starting January 2022.
When an app breaches 30 per cent market share by volume, NPCI will ask third party apps to stop onboarding of new customers.
There may be exemptions, however, to ensure smooth implementation of user onboarding restrictions, according to NPCI.
The intent behind capping third party apps' on UPI was to end the monopoly of big tech firms in the growing payments market. There's no such threshold for banks.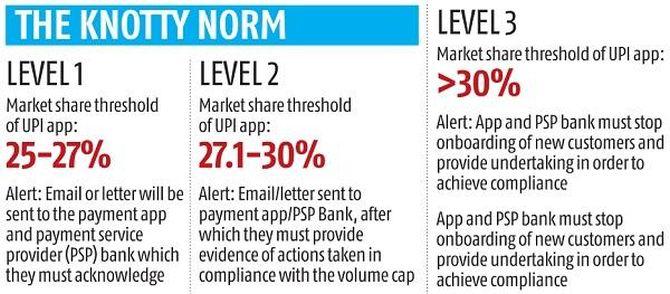 Experts said the government decision to reduce merchant discount rate (MDR) to zero for UPI and RuPay has already hurt the industry.
"Many times, transactions fail because the underlying infrastructure -- banks -- are unable to take the large scale of transactions made under UPI. Now with zero MDR, they have no incentive to invest further in the system," another executive said.
A billion transactions per day are expected on UPI in the next few years, which could get divided between many digital payments players.
That's a substantial increase from over 100 million transactions per day now.
Market share would balance out when other players build their platforms and increase efforts to do digital payments, analysts pointed out.
Walmart-owned PhonePe has crossed a billion UPI transactions in a month, giving it a further lead over Paytm, Google Pay and Amazon Pay.
The Bengaluru-based firm said the total transactions for last month across UPI, cards and wallet stood at 1.3 billion.
A Paytm spokesperson said the company recorded 1.4 billion transactions in March across all payment methods, including Paytm wallet, UPI, cards and net banking.
UPI hit a record, crossing Rs 5 trillion in value in March across 2.73 billion transactions.
In January, the value was Rs 4.31 trillion for 2.3 billion transactions.
After digital payments, financial services could become the next battleground for players such as PhonePe, Amazon, Google and Paytm.
The size of the Indian financial services market could touch around $340 billion in the next few years.
Making deeper inroads into financial services, PhonePe recently launched Gold, providing users with a convenient option to buy 24-karat gold on its platform.
It also launched several mutual funds and insurance products.
Paytm already has a diversified portfolio of products and services including Paytm Payments Bank, Paytm Payments Gateway, Paytm Payout, etc.
Last year, Google had forayed into the digital lending space, which is set to become a $1 trillion opportunity in the next five years.
E-commerce firm Amazon is also betting big on financial services and is coming up with new products in areas such as insurance and lending.