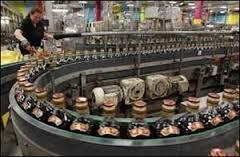 World's largest spirits maker Diageo Plc on Wednesday announced a top-level rejig as United Spirits Chief Executive Officer Anand Kripalu has been elevated to its executive committee.

It also said that its India and China President Gilbert Ghostine would be leaving the company.

Moreover, Diageo Greater China Managing Director Sam Fischer has also been elevated to its executive committee.

"Anand Kripalu, CEO, United Spirits Limited, will also join the Executive Committee. Both Sam and Anand will report to Nick Blazquez as President, Diageo Africa and Asia Pacific," Diageo Plc said in a statement.

Diageo Western Europe President John Kennedy would will take responsibility for Russia, Eastern Europe and Turkey as President, Diageo Europe.

It would be in addition to his current responsibility, the London-headquartered firm said.

These appointments would be effective from September 1
this year, it further added.
Commenting on the development, Diageo Plc Chief Executive Ivan Menezes said: "The changes we have announced on Wednesday signal a further shift in Diageo from an organisation based on regions to one which puts accountability in the markets."
In addition, the changes strengthen the executive team and enhance focus on two key growth markets, China and India, he said while congratulating Sam and Anand on their promotion to the executive committee.
Ghostine, who was with Diageo PLC from last 19 years, would leave the company on 30 September 2014.
"Gilbert Ghostine has accepted a role outside Diageo and will be leaving the organisation on 30 September 2014," it added further.
Diageo is world's largest spirits maker with premium alcohol brands across spirits, beer and wine as Johnnie Walker, Crown Royal, J&B, Windsor, Buchanan's and Bushmills whiskies, Smirnoff, Ciroc and Ketel One vodkas, Baileys, Captain Morgan, Tanqueray and Guinness.