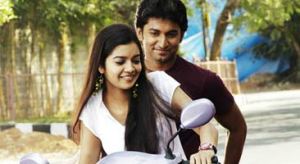 M
any people connect with Ashta Chamma, a movie that is largely based on
The Importance of Being Earnest
, comic play by Oscar Wilde in which protagonists use fictitious identities to escape from obligations.
Now the film, the maiden venture of Ram Mohan, a management graduate-turned-movie producer, has become an entrepreneurship case study for the Indian School of Business.
Last week, Ramakrishna Velamuri, a visiting associate professor of entrepreneurship at the ISB, taught 'Ashta Chamma' -- The biggest small movie ever made' to 280 students. Ram Mohan was in the audience when the study was took up for discussion.
"The movie is a good example of striking a balance between cost and risk assessment," says Rajesh Chakrabarti, assistant professor (finance) at the ISB. Mohan made a shoestring budget of Rs 1.5 crore (Rs 15 million) for the movie and overran it by Rs 10 lakh (Rs 1 million). In business circles, this kind of budgeting is a good job done considering the size of the project and the number of people involved.
The film with no big cast, except for the novel storyline revolving around a girl obsessed with Tollywood actor Mahesh Babu, went on to make Rs 10 crore (Rs 100 million) at the box office.
Mohan also launched an online game on idlebrain.com, a movie-related portal. This was the main advertising and marketing channel for the movie.
This is the first case to be written and developed with the support of the Case Development Centre at the ISB. It is in line with the centre's mission to develop Indian case studies of international standard and to promote case studies specific to India and the emerging markets.
The film would also be part of the entrepreneurship case study database of University of Western Ontario and other B-schools that network with ISB. Five students, belonging to the last batch of the ISB, worked on the case study.
The case study looked to Ashta Chamma to evaluate opportunity, resources, networks, marketing strategy etc. It also related a story of 'smart audacity' -- about entrepreneurs not willing to give up in adverse conditions.
An alumni of IIM-Ahmedabd, Mohan quit his first corporate job with Ranbaxy Laboratories and ventured into stock broking. Later, he moved into the retail sector, which was unconventional in the 90s. His business was severely undercapitalised and soon he and his partners ran into debt traps and the business collapsed.
Later came stints with Suresh Babu Productions and UTV, where Mohan continued to operate like an entrepreneur within a corporate sphere.
Finally, he decided to produce a movie in 2007. "Risk mitigation and persistence are the main learnings from the case study," says Vijaya Bhaskar Chowdhary, one of the students who worked on project.
Image: A still from Ashta Chamma