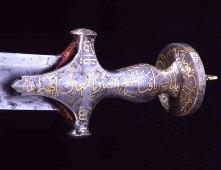 Tipu Sultan's majestic sword has fetched a record price of 505,250 pounds at an auction by Sotheby's here even though its initial estimate was a modest 50,000 to 70,000 pounds.
In 2003, the 200-year-old sword was bought with much fanfare by liquor baron Vijay Mallya.
It has now been sold for a record price.
Sotheby's described the item as: "A Very Rare Sword with Tiger-Form Hilt, from the Palace Armoury of Tipu Sultan, India, circa 1782-99, with 19th century silver-mounted Scabbard."
Sotheby's said there were a very small number of sword hilts, such as Tipu Sultan's auctioned sword, which have a pronounced tiger theme that was a mark of Tipu's ownership.