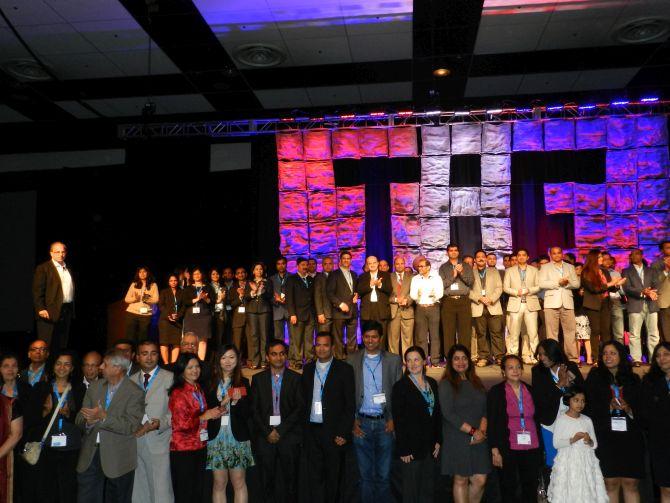 The TiECon Disruptive Entrepreneurship Conference on May 15-16 saw a record turnout of 4800 people.
Ritu Jha/Rediff.com reports from California on the largest TieCon ever.
ALSO READ: Tesla's Gigafactory promises to change the world
Every few steps at the TiECon Disruptive Entrepreneurship Conference, one heard, "We have a start -up"… "I have a start-up company"… "We have a product…"
This year's two-day conference of The Indus Entrepreneurs at the Santa Clara Convention Center, May 15-16, attracted 4,800 people -- of which at least 1,000 were entrepreneurs and 300 travelled from overseas -- the most number of attendees in TiE history.

"We are still completing our analysis of these numbers," Raj Desai, executive director, TiE Silicon Valley, told Rediff.com. "Our Youth Track attracted 400 attendees."


Even a legendary figure like Jack Welch, image, left, couldn't stop being amazed during his grand keynote speech at how surprised he was when he casually asked a man backstage if he had his own company. And the man replied, 'Oh, I have already sold three.'
"It's in the genes. They are smart, aggressive and courteous. Always searching," Welch noted about Indians, the race.
The 22nd TiECon featured over 200 speakers and the energy was so high that the speakers' series went an hour over schedule on the concluding day.

TiE President Venkatesh Shukla, who has been hosting the event these past three years, told Rediff.com, "I am very proud of re-energizing TiE and TiECon. For 20 years, TiECon did not change. The change in format at TiECon, where Friday is dedicated to the three hottest technology areas, and Saturday covers emerging areas like online education and entrepreneurs from other walks of life, has transformed TiECon.
"It has once again become relevant to entrepreneurs from all over the world. This year, we had entrepreneurs from 22 countries at TiECon.
"The next year will see the transformation in the mainstream consciousness on the role of TiE in nurturing entrepreneurship," Shukla promised. "It will be a greater celebration of entrepreneurship with TiEcon being the platform of choice for global entrepreneurs."
With the theme 'Disruptive Entrepreneurship: Break-In. Break Out, Break Away,' TiECon featured sessions on The Data Economy, Cloud ,Infrastructure, the Internet of Things, Entrepreneurship, TiE Youth, Healthcare, Oil & Gas Technology, Online Education and data security, e-commerce and even Bitcoins in India.

Shalini Pai, Director and Global Head, YouTube, said, "Online learning enables not only classroom (K-12) access and interactivity, but also access to anyone anywhere to learn at their own pace and the subject matter of interest to them . It's no longer just a teacher student relationship, but a relationship with knowledge that is life-long, based on passions and interest."

"Owing to the one to one nature of this type of learning that only the Internet can enable, the focus of the industry is moving from MOOCs (Massive Open Online Course) to SPOCs (A Small Private Online Course). It is known that the biggest drop off in online learning happens owing to lack of physical interaction. SPOCs try and manage this by blending the best of both worlds -- physical presence as well as online self paced targeted learning," Pai added.

"At YouTube," she said, "we launched the Creator Academy targeted at people interested in creating videos. The site is now frequented by millions of users globally who are seeking to express them via online video."
"We do everything globally, and emerging markets like India are definitely a focus for us," Pai told Rediff.com.

"Analogous to what the Khan Academy is trying with the flipped classroom style approach, we host many of them at our creator spaces across the world to ensure that learning is 'sticky'," she added.
Pai felt there was a lot of scope for thinking about how one educates more niche demographics and sectors, especially the senior citizens demographic, how they can get back to being productive in society and continue to share their wisdom and experience.
"Interestingly, the most popular videos are created by people in their homes, videos on how to tie your shoelaces. Who knows what kinds of interesting educational material will come from our next generation of creators, both young and old," Pai said.

Ritika Suri, Global Head of Corporate Development, Infosys, said the Infosys Innovation Fund offers $250,000 which is dedicated to India and $250,000 for the rest of the world.

"Infosys will be spending in India, on start-ups," Suri told Rediff.com. "There's enough money in the Bay Area. What matter to us is helping these companies grow if they need engineering services. We have people with different kinds of skill sets. We are willing to help incubate and coach, mentor and help the companies. We are an Indian company, we are bell weathers of India and we want to continue to be the bell weather."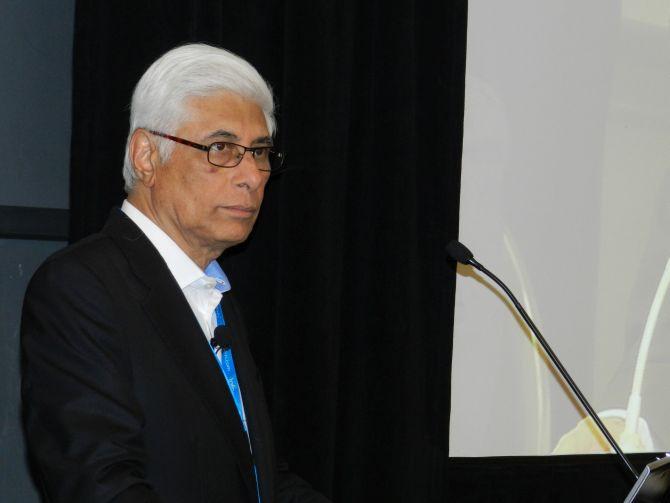 "We look at transactions, both from the Indian perspective and also the likely consequences in the US and try to work around that," Nishith Desai, founder, image, left, Nishith Desai Associates, an India-centric global law firm, told Rediff.com.

"There are number of issues and tax, of course, is one of them. On the regulatory side there are several issues," Desai said, "India is evolving under Narendra Modi. We will see some changes, not yet much. This government at least hears and listens to technology issues."

Vaibhav Parikh, an associate at Desai's law firm, told Rediff.com, "There are Bitcoins alliances in India. It has become a source of payment and we accept it as payment. It's like how people once accepted gold coins. This has become the new gold. There a lot of people buying Bitcoins in India in the hope that they can sell it later. We hope one day it will get regulated."
---
'This is the most innovative time in human history'
Voices@TIECON 2015
The nice thing about this room is that you are filed with credentials and talents. You have the mobility and brain power and you have a chance to take the skills in the right environment. I am a huge fan of Indian entrepreneurs and have been going to India for 25, 30 years. I always said I went to India to find low cost. Instead we found high brains, many, many, brains, and that changed the game. Everybody I met there was smarter than the person I just met. That's why I am a huge fan of India."
-- Jack Welch, former CEO, General Electric, who delivered the grand keynote at TiECon 2015.

I think we are in a different technology age. We are going to see a lot of disruption. Whether you are inside the company or outside, getting talent is the real key to growing your endeavour. It's all about 'People, People, People.'"

-- Jack Welch, when asked by Vivek Paul, former vice chairman, Wipro, if 'we are in a different technology age or the age of folly.'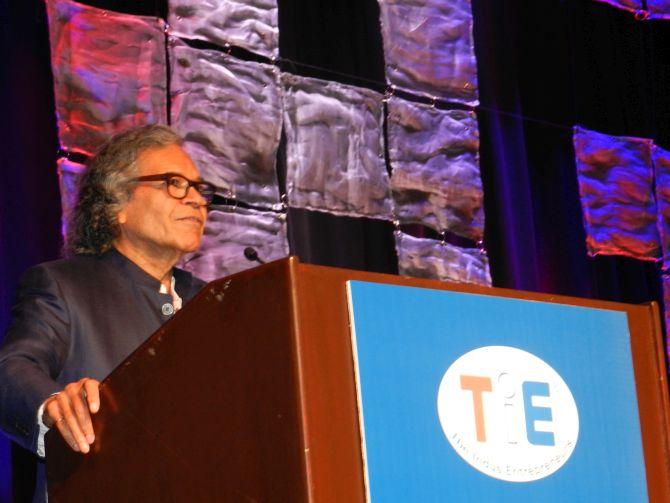 I know there are all kinds of definition for entrepreneur. The one that we all recognise is that entrepreneurs are risk takers. One of the definitions I want to add is that entrepreneurs are also dreamers. As an entrepreneur, one has to have a dream and a passion to make that dream come true."
-- John N Kapoor, image, left, Founder-Chairman, INSYS Therapeutics.

In India when you work in a pharmacy they teach you how to work in a factory. They don't teach you how to work in a drug store. So I have learned how to work in a factory. I used my expertise from India and it helped me start a factory here. It became quite successful and I grew with the company. I worked for that company for six years and instead of working on research, I was working on the management side of it. That's how my career took a transition from research to manufacturing."
-- John N Kapoor, who migrated to the United States in 1964 after a BS in pharmacy from Bombay University. He earned a PhD in medicinal chemistry from the State University of New York at Buffalo. Kapoor shared how his expertise from India helped him build a company, transform the struggling LyphoMed, which was bought by the Japanese company Fujisawa Pharmaceutical.


Technology is advancing exponentially, and not linearly. The impact of this will be amazing. This is the most innovative time in human history. The science fiction that we dreamt about is about to become a reality… not in 50 years from now, but within five to seven years from now. The Apollo Missions and the Mars Rovers mission had lesser processing power than music memory cards and smart phones. Soon, robots will be serving customers at McDonalds and within a few weeks, driverless cars will be on the roads in Mountain View."

-- Vivek Wadhwa, columnist and thinker.

-- Compiled by Ritu Jha/Rediff.com
---
Waiting to see the Modi impact in India

'Make it easy for foreign money to come in,' major investor Vab Goel tells Ritu Jha/Rediff.com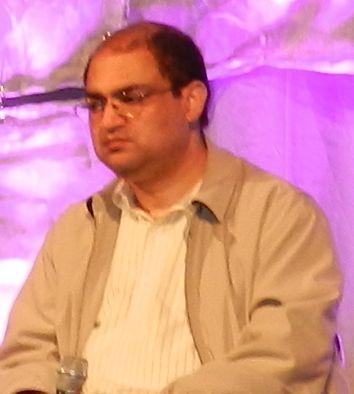 The environment in India is changing and there is a lot more optimism, but when it comes to policies, we are still waiting to see that direct impact," says Vab Goel, image, left, General Partner, Norwest Venture Partners.

"When it comes to the day to day ease of doing business," Goel told Rediff.com, "I don't think there is much change yet. Hopefully in the coming years, that will happen."

Goel wanted the year-old Modi government to "make it easy for foreign money to come in and also make it easier for people to take money out, to cut the red tape or reduce it because India needs lots of money for infrastructure."

"We made our first investment in 2005-2006," Goel added. "We have been in India for the past 10 years. Ten years ago we needed good talent. Now there are a lot more start-up companies, but still you have to fight for the talent."

"People also have more experience now," he said. "Ten years ago on the IT side India was just an outsourcing destination. Now you see entrepreneurs who say 'I want to build a software company for a global market.' So that's very exciting."

"We are also seeing some healthcare companies which are trying to build products for international markets," Goel said. "We see lot more products wanting to go global."

NVP has been a multi-stage venture capital and growth equity investment firm for more than 50 years. It has funded more than 550 companies.

"In India," Goel said, "we are looking for strong entrepreneurs, because we are stage agnostic and sector agnostic. We can put anything from $100,000 to $70 million in a company."