UK-based travel services provider Thomas Cook Group plc will sell for Rs 817.4 crore (Rs 8.17 billion) its entire 77 per cent holding in the Indian arm to Fairbridge Capital (Mauritius) Ltd, a subsidiary of Fairfax Financial Holdings.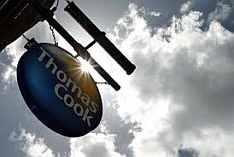 "Under the terms of the agreement, Thomas Cook will receive gross cash proceeds of Rs 8,174 million for its shareholding," Thomas Cook Plc said in a statement.

The agreed price is equivalent to Rs 50 per share, which represents a premium of 11 per cent over the market price immediately before the announcement of the auction process, the statement added.

The Group will grant Fairbridge a licence over the Thomas Cook brand for 12.5 years in the countries in which TCIL currently operates, it said.

Thomas Cook Plc Group Chief Executive Sam Weihagen said, "I am pleased to be able to announce this disposal, which is a further step in improving the group's financial position and demonstrates our on-going commitment to reducing debt and strengthening the balance sheet."

The stake sale in the Indian arm is part
of the Group's previously announced plans to reduce debt and strengthen its financial position, which combined with the proposed sale and leaseback of certain aircraft, among others to get substantial additional liquidity.
"The net proceeds of the sale will be used to reduce the net debt of the Group. Completion of the sale will be conditional upon the approval of the transaction by Thomas Cook shareholders and will require Indian regulatory approval," the company said.
Thomas Cook India Ltd (TCIL) had gross assets of Rs 932.7 crore (Rs 9.32 billion) and net assets of Rs 392.3 crore (Rs 3.92 billion) as on December 31, 2011 and generated net profit of Rs 56.24 crore (Rs 562 million) for the 12 months ending December 31, 2011, it added.
"The current TCIL management team will remain with TCIL upon its sale," it said.
A circular will be sent to shareholders in due course containing further details of the sale together with a notice convening a meeting of shareholders. The sale of TCIL is expected to complete within the current financial year, the company said.
Fairfax Financial Holdings Ltd is a financial services holding company based in Canada.