Diesel cost is down 16% but Indian Railways is not revising the fuel adjustment component due in December. Ii will gain Rs 5,000 crore (Rs 50 billion) in FY15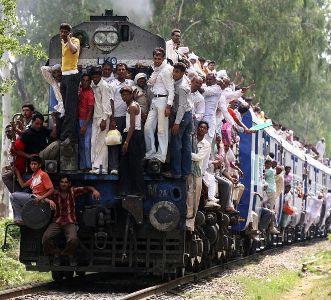 The government and the oil marketing companies are not the only ones benefiting from the falling petroleum prices. By not revising the fuel adjustment component of passenger fares and freight rate, Indian Railways, too, is making a small margin on fuel cost.
The transporter could save around Rs 5,000 crore (Rs 50 billion) on diesel bill in the current financial year.

Diesel price for bulk consumers, including Indian Railways, has come down by 16 per cent to Rs 50.51 a litre since June when it last revised passenger fares through a 14.2 per cent hike and freight rates by 6.5 per cent increase.
While this benefit of easing fuel cost should have been passed on to consumers through the review of FAC due this month, the Railways does not intend to revise freight and passenger fares until the next Budget to be presented in February.
Asked whether the Ministry of Railways would reduce fares in line with the declining global oil prices, a senior ministry official said: "No revision in passenger fares or freight rates is being planned before the Budget.
"Also, FAC is not being revised as of now. The impact of the reduction in diesel prices between April and September this year will be seen only in the February revision."
He said the impact of global oil prices on railway fares comes with a lag of up to a year.

Indian Railways consumes about 2.7 billion litres annually to operate 70 per cent of its freight traffic and 50 per cent of passenger operations.
Its fuel bill, which includes electricity traction cost apart from diesel, accounted for Rs 28,592 crore (Rs 285.92 billion) 22 per cent -- of the Railways' total working expenses in 2013-14.
Diesel accounted for around 70 per cent of the fuel bill.
The national transporter had budgeted for Rs 20,000 crore (Rs 200 billion) increase in its working expenses from Rs 1,22,867 crore (Rs 1,228.67 billion) in FY14 to Rs 1,43,318 crore (Rs 1,433.18 billion) in the current financial year.
A bulk of this additional expenditure was due to spending on fuel that was expected to increase by Rs 6,500 crore (Rs 65 billion) from Rs 28,592 crore (Rs 285.92 billion) in FY14 to Rs 35,181 crore (Rs 351.81 billion) in the current financial year.
An analysis of last year's figures highlights diesel's role in railways' financials. Indian Railways' expenditure on diesel had jumped 45 per cent from Rs 13,750 crore (Rs 137.5 billion) in 2012-13 to Rs 19,950 crore (Rs 199.5 billion) in 2013-14 despite a mere 2.7 per cent increase in volume.
Reason: a 34 per cent jump in diesel prices driven by the last year's rise in crude rates.
The situation has been completely upturned this year after a global supply glut, coupled with declining demand pulled down crude prices by 45 per cent to less than $60 a barrel since June 2014.
Diesel prices for the Railways have come tumbling down from Rs 60.08 a litre in June to Rs 50.51 a litre now.
"The dip in diesel prices is likely to lead to savings of Rs 4,000-5,000 crore (Rs 40-50 billion) for us.
We will also benefit from increased earnings on freight side," said a ministry official.
The Railways' freight earnings between April and November this year have risen 12 per cent to Rs 66,211 crore (Rs 662.11 billion).
There has also been a 5.2 per cent increase in freight volume to 713 million tonnes, which indicates how the transporter is benefiting from higher freight rates.
FAC accounted for 4.2 per cent of the 14.2 per cent hike in passenger fares and 1.4 per cent of the 6.5 per cent hike in freight rates announced in June.
The system of FAC, which insulates the Railways from the volatility in fuel prices by passing on fuel cost to consumers, was introduced in last year's Budget.
Rates have been revised thrice since April 2013 under the FAC component.

CASHING IN
Diesel price for bulk consumers like Indian Railways has come down by 16% to Rs 50.51/litre since June when it last revised passenger fares through a 14.2% hike and freight rates by a 6.5% increase
The benefit of easing fuel cost should have been passed on to consumers through the review of FAC due this month but railways does not intend to do so until the next Budget
Indian Railways consumes around 270-crore (Rs 2.7-billion) litre diesel annually to operate 70% of its freight traffic and 50% of passenger operations