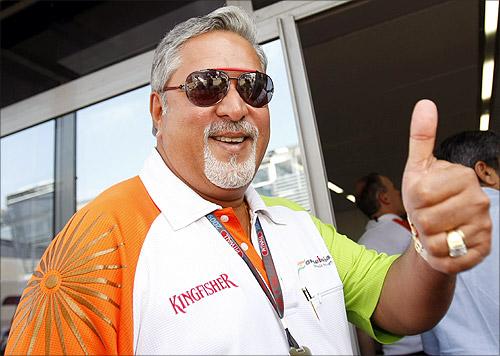 UB group chairman Vijay Mallya on Tuesday said that Delhi Chief Minister Arvind Kejriwal was pursuing "unconventional methods" to attain his objectives while asserting that there should be no "witch-hunt" against industrialists.
Mallya, a Rajya Sabha MP, said in view of the forthcoming general elections, some political parties have stepped up trading accusations, which should be taken with a pinch of salt.
"I think Mr Kejriwal is pursuing unconventional methods to achieve his objectives. Industry must be respected as it contributes to economic growth... it should be treated with dignity and respect. If Reliance or any other company has done (something) that should not be done, there is a due process of law. But clearly I would not support any witch-hunt," he said outside Parliament.
The liquor baron was asked to comment on the Delhi Chief Minister's decision to file FIRs against Petroleum Minister Veerappa Moily and Reliance Industries Chairman Mukesh Ambani for alleged irregularities in the KG basin issue.
Asked whether complaints against the industrialists should not be investigated, Mallya said "due process" should be followed in case of any wrongdoing.
Earlier in the day, without explaining whether the Delhi government has the jurisdiction to probe the case, Kejriwal alleged that Reliance Industries Ltd has benefited as the Oil Ministry decided to hike the natural gas price to $8 per million British thermal unit as against current $4.2 from April 1.
He alleged that RIL did not produce adequate gas from the eastern offshore KG basin block so as to put pressure on the government to hike the price.