Amid hints that the government might be exploring capping royalty payments by India-based subsidiaries to US companies, experts warn Subhayan Chakraborty why such a move will only hurt the Indian economy.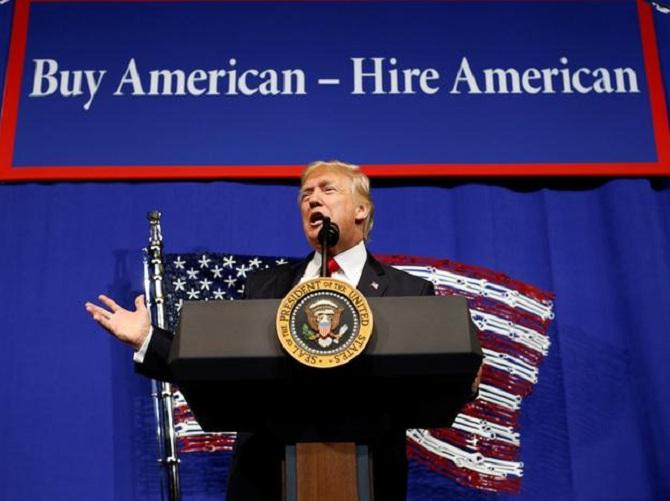 IMAGE: US President Donald Trump speaks at the Snap-On Inc headquarters in Wisconsin in April 2017 before signing an executive order directing federal agencies to recommend changes to the temporary visa program used to bring foreign workers to the US to fill high-skilled jobs.
Photograph: Kevin Lamarque/Reuters.
Commerce and Industry Minister Nirmala Sitharaman could find it difficult to maintain her tough stance on United States government's curbs on H1-B visas, experts said.
The minister recently said the US government should realise subsidiaries of US companies based in India also send their earnings to the US, which experts said meant that the government might be exploring capping royalty payments by India-based subsidiaries to US companies.
Such a move ran the risk of harming investor confidence in the country, experts said.
Royalty is paid to a foreign collaborator for transfer of technology and use of brand names or trademarks. "Any move to curb royalty payments will dent investor confidence and be retrospective since such conditions were not present when those investments were made," said Jayant Dasgupta, executive partner at legal firm Lakshmikumaran and Sridharan.
This could allow companies to initiate lengthy and expensive international arbitration.
However, the government is free to frame tougher new norms for royalty repatriation with regards to future investments.
Even in that case, India would be on the back foot, since most developing countries had liberal norms for royalties being paid back, Dasgupta argued.
In April-December 2016, foreign direct investment equity inflows were $35.84 billion against $29.44 billion in the corresponding period of the previous year. Such confidence in the economy has been termed as the main reason behind the rupee appreciating in value.
The rate of increase of royalty paid by multinational companies (MNCs) operating in India has outpaced the rate of growth of pre-tax profits by these companies in the past five years, Institutional Investor Advisory Services (IiAS), a proxy advisory and corporate governance firm, has pointed out.
"In 2015-16, 32 of the top MNCs in the country repatriated Rs 7,100 crore to their parents, up from Rs 6,300 crore a year earlier," it said.
This has prompted the government to set up an inter-ministerial group involving the department of industrial policy and promotion and the finance ministry.
"Capping royalty payments will go against the current trend of further liberalisation of sectors and ease of doing business," said Madan Sabnavis, chief economist at CARE Ratings.
While it would hurt economically, a political message to the US would definitely be sent, he added.
Prior to 2009, royalty payments by Indian companies were capped at 8 per cent of exports and 5 per cent of domestic sales in the case of technology transfer and at 2 per cent of exports and 1 per cent of domestic sales for use of trademarks and brand names. In an attempt to make India more attractive to foreign investors, the government relaxed this rule in 2008-09, resulting in a spike in royalty payments.
IiAS said payment of royalty was legal, but its value must be evidenced in sales growth or higher pricing power and, therefore, higher margins.
According to government estimates, outflows on account of royalty and fees for technical services were 15-18 per cent of FDI inflows between 2009-10 and 2012-13.
Royalty payments increased to $4.1 billion in 2012-13, from $ 1.7 billion in 2008-09.
---
Also read: Trump era actions on H-1B