Indian Hotels Company is keen to start the Sea Rock project at Bandra in this city. The company has secured 23 of the 24 permits it needs to begin work on the property.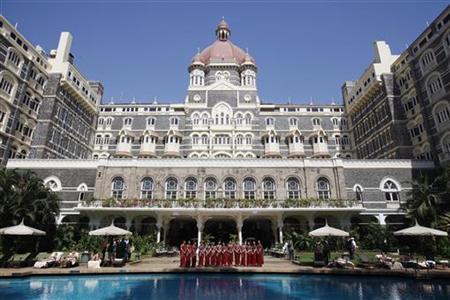 Image: Staff of the Taj Mahal Palace hotel pose for a photo near the hotel's swimming pool during a photo call in Mumbai. Photograph: Vivek Prakash/Reuters
Rakesh Sarna, new managing director of Indian Hotels Company (IHC), on Monday outlined a three-point agenda for a turnaround in operations over two years.
The Tata group company is recalibrating its cash cow US portfolio, where it has three operational properties.
Fortunately for it, America's economy is gathering pace and its properties are witnessing occupancy beyond 70 per cent.
However, due to oversupply in areas such as New York, where IHCL has The Pierre, room rates stay low.
"We need to see how to plug the current performance in the US. If we can plug that leaky bucket, that in itself is a huge injection of cash flowing into the company," Sarna said.
Second, the company wants to exit Belmond (formerly Orient-Express Hotels), where it holds 7.13 million class-A common shares, translating into a 6.9 per cent stake.
IHC is the second-largest individual shareholder in Belmond and had made offers for an exit.
Belmond has launched a $75-million share repurchase programme to which IHC is open to participating, if the offer per share is good, said Sarna.
He did not detail what would be a better price for the sale to happen. IHC paid an average of $35 a share for its stake and the Belmond stock is trading under $12.
IHC said it is open to selling its shares to not only the promoters of Belmond but to any other investor, too.
"We are open to anything that does not result in further diminution of value."
"Obviously, Belmond has a certain number in their mind for the repurchase programe. We might not be aligned with that number, so we may sit it out," he added, in his first formal interaction with the press.
Finally, IHC is keen to start the Sea Rock project at Bandra in this city. The company has secured 23 of the 24 permits it needs to begin work on the property.
Due to a public interest suit, IHC is restrained from starting any construction at the site, which adjoins its existing hotel, Taj Lands End. It hopes to begin construction this financial year.
Meanwhile, Sarna believes it will take at least two years for the company to return to profits, even as it tries to reduce debt. Additionally the company is looking to open 17 new properties in India and one in Dubai over the next two years.
This is expected to add 3,400 rooms to its tally. "From an Ebitda (operating earnings) standpoint, we have been profitable.
PAT (profit after tax) is, of course, entirely a different matter. We are at least two years away because we need to make sure we have taken account of all our liabilities, defined and undefined," he said.
At a consolidated level, IHC is servicing debt totalling Rs 4,300 crore (Rs 43 billion); at a standalone level, the debt is Rs 2,300 crore (Rs 23 billion).
IHC recorded losses (consolidated) in four of the past five financial years ending March 2014. It paid total interest of Rs 169 crore (Rs 1.69 billion) in 2013-14, one reason for net loss increasing to Rs 523 crore.
"When the 2014-15 results are published, we will show progression," added Sarna.
To improve operations, it had decided to do away with the traditional sales and marketing set-up and created a new space for a chief revenue officer, "because the focus is how do we meet the digital world today, search engine optimisation, e-commerce, right databse of customers to be able to reach into the different market segments", Sarna said.
Chinmay Sharma, who was working with Starwood Hotels and stationed in Paris, is said to be joining IHC as the chief revenue officer. The company has also moved away from having three chief executive officers of its three brands to having a senior vice-president for brands across all regions.
This, Sarna believes, will provide the company 'far more flexibility and more agility in the way it operates'.