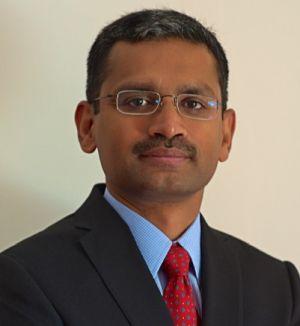 The new TCS CEO is aware of the challenges and opportunities that lie ahead.
In its 49 years of existence, India's largest information technology services provider, Tata Consultancy Services, has seen its leadership change only four times.
Rajesh Gopinathan, chief executive officer (CEO) and managing director, took over the reins of the company on Tuesday, at a tough time.
Gopinathan has challenges. India's largest IT services firm, with revenues of $16.5 billion, faces headwinds in a market where automation and artificial intelligence are disrupting traditional services segments, but a tougher regulatory environment in its major markets might make the company take a relook at its supply strategy and its impact on margins.
"The positive aspect of this change at TCS is that Chandra (N Chandrasekaran, chairman, TCS) will be around. So the strategy direction and commitments made to the clients continue. Gopinathan is a good choice in the given environment. How people will take a CFO becoming a CEO only time will tell," said Pareekh Jain of HfS Research India.
Peter Bendour-Samuel, CEO, Everest Group, said: "He has an excellent reputation and a strong management bench behind him. Gopinathan is well-positioned to lead TCS in a digital-first future to catch up with Accenture and other digital leaders by acquiring digital companies."
Gopinathan, however, does not have the fortune, like his predecessor, of being groomed for the role.
Before Chandrasekaran became CEO of the company, he was chief operating officer for three years. In the case of Gopinathan, that is not the case, though he has been in the core team of Chandrasekaran, though as the finance head and not as an operational person.
"Gopinathan is a good choice and a very capable person for the job. The only concern is that the time for grooming him was little. TCS is a huge company with vast operations. As he gets to know the operations well, there may be a tiny window of a tough phase for him," said a senior analyst tracking the firm.
The street is looking at this change as a positive as Gopinathan will continue with the same strategies. "With Gopinathan at least the continuity is there," said another analyst.
According to the analysts, Gopinathan will have three major challenges. The first is client relationship. He might know each and every detail of deals that are signed at TCS but he also needs to connect with the clients.
According to media reports, Chandrasekaran has said that during the recent Davos Summit he made sure that Gopinathan was introduced to the top clients of TCS. He will now need to build on it.
The second is understanding each and every process at TCS.
"Chandrasekaran grew with the company. He has put in several processes at TCS. Gopinathan might have the advantage of running a well-oiled giant like TCS, but he needs to understand the nuances of this," said another analyst.
And third, Gopinathan is saddled with a biggest technological shift that the industry is witnessing.
"The challenge which sits before him and TCS is how to balance the demands of the current arbitrage-first business while accelerating the adoption of the new digital-first future. Whereas TCS is cash-rich with very little debt, and so in a strong position to return cash to shareholders, this reduces its capacity to pursue an aggressive acquisition strategy," said Bendour-Samuel.
Gopinathan is aware of the challenges and opportunities that lie ahead.
In an earlier interview to Business Standard, he had said (then as chief financial officer): "This is the first evolution or technology change where we are part of it from grounds up. Earlier when the web came we were still trying to prove customers our credibility. Now we have to show our capabilities…our opportunities were limited because of our size earlier. The context is different now."