Demonetisation impact: Money lenders make a comeback.
Abhijit Lele and Nupur Anand report.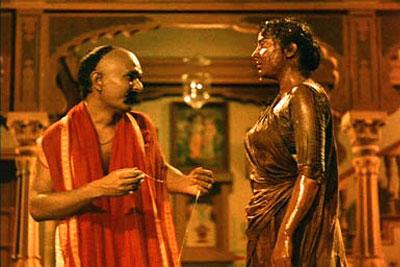 IMAGE: Sukhilala, the greedy moneylender, in the classic film, Mother India.
While one of the objectives of demonetisation was supposed to create a transparent economy by obliterating black money, it has created a parallel one led by informal money lenders, say bankers.
According to the chief executive of a financial service firm, which has substantial rural business, people who earn their wages in cash tend to purchase food grains and other essential goods on a daily or weekly basis.
With currency notes in short supply in the wake of demonetisation of Rs 500 and Rs 1,000 notes, many of them now receive their wages in a staggered manner.
Such people are forced to buy goods on credit from shops at a premium, says the chief executive cited above, asking not to be identified.
"A person buying goods worth Rs 1,000 would end up paying Rs 1,100 when he makes payment after a month or so. This translates into an interest rate of 10% per month."
Echoing similar sentiments, another public sector bank executive heading the retail operations in western Maharashtra said the rise of money lenders charging such exorbitant rates is an unfortunate reality in some rural pockets.
"The use of digital payments along with improvement in supply of currency notes in the coming months would change the situation for the better," added the executive, who did not wish to be identified.
Another banker with a private sector bank noted that the rise in informal lending channels has come at a time when banks are busy with accepting deposits and disbursing cash.
Experts say the cash shortage will continue for another two months.
Even in urban areas, the cash crunch is forcing people to look at non-bank financial avenues for short-term loans.
As a result, several individuals or small and micro enterprises are now turning to online portals working in the space of peer-to-peer lending.
Under this, one individual can lend money to another without assistance from any financial intermediary.
"After demonetisation, we have seen an uptick in borrowing by about 25% on a month-on-month basis. Also, people looking at investment for giving out loans has also increased significantly," said Bhuvan Rustagi, chief operating officer of Lendbox, a peer-to-peer lending platform.