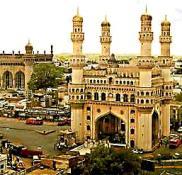 The movement for a separate Telangana state has taken its toll on the industrial sector in Andhra Pradesh even though chief minister, Konijeti Rosaiah, asserts that agitations will not come in the way of state's development.
According to captains of industry, along with the Telangana stir, power cuts, lack of political will and bureaucratic lethargy have affected the growth of the manufacturing sector. Consequently, no major manufacturer has set foot in the state in the past one year.
Even the credit for bringing the Rs 6,000-crore (Rs 60 billion) NTPC-BHEL power equipment manufacturing unit, for which the foundation stone was laid by the Prime Minister recently, was given to former chief minister, YS Rajasekhara Reddy, who died in a helicopter crash a year ago.
This view had been endorsed by all those engaged in getting the project, including the Prime Minister and the chief minister.
With regard to political indecisiveness, a top government official cites an educational project as an example for which the former chief minister had decided to allot 150 acres in Rangareddy district, adjacent to the state capital.
"Despite our best efforts for the past one year, the file pertaining to the project did not move from the district collectorate to the chief minister's office and the project is yet to be placed before the state Cabinet for its approval," he says.
Take-off stage
In fact, the manufacturing sector in the state appeared to have reached the take-off stage a couple of years ago with companies like Apache, Brandix, Tata Advanced Systems, Caparo, MAS Holdings and SBQ Steels among others coming forward to set up their units.
According to the then estimates of the AP Industrial Infrastructure Corporation (APIIC), investments to the tune of Rs  27,000 crore were lined up in the manufacturing sector alone and that too in just two districts - Nellore and Chittoor. The two districts, which feature large multiproduct special economic zones, were expected to emerge as the state's manufacturing hub.
State commissioner of industries, G Anantha Ramu, says there was indeed a quantum leap in the flow investments into the manufacturing sector in the last five years.
According to him, from 2005 to 2010, the state attracted Rs 42,643 crore (Rs 426.43 billion) worth of investments in manufacturing- nearly an eight-fold increase over Rs 5,391 crore (Rs 53.91 billion) investments made during 2000-2005.
In the last five years, Ramu tells Business Standard, 159 units involving an investment of Rs 18,056 crore (Rs 180.56 billion) and providing employment to 41,342 people have gone into production. 
These include 34 spinning mills (total investment Rs  1,572 crore), 29 chemical and bulk drug companies (Rs  1,874 crore), 31 non-metallic mineral units Rs  7,501 crore), 16 basic metals (mostly steel) and alloy producers (Rs  2,528 crore) and 11 paper manufacturers (Rs  2,008 crore).
Among the 159 units, only two projects - SJK Steel Corporation Limited and Ultratech Cement expansion - involved an investment over Rs 1,000 crore (Rs 10 billion) each. 
The quantum of investments ranged from Rs 200-600 crore (Rs 2-6 billion) in the case of 11 more projects including that of Orient Cement, Rain Commodities, Essar Steels, South Asia LPG Company, Sagar Cements, Deccan Cements, Reliance Gas Transportation Infrastructure, My Home Industries, Bharathi Cement, Bheema Cements and Penna Cement.
According to the Socio Economic Survey 2009-10, prepared by the Planning Department, in the last two decades since the introduction of the Industrial Policy in August 1991, the state received 6,689 proposals involving an investment of Rs 4,37,925 crore (Rs 4379.25 billion).
Of these, 2,931 proposals have gone into production with an investment of Rs  54,786 crore (Rs 547.86 billion).
Currently, 81 mega projects (projects with more than Rs 100 crore investment) with a total investment of Rs  76,106 crore (Rs 761.06 billion) are in the advanced stages of implementation.
Industrial growth declines
Nevertheless,  the state's industrial growth declined from 11.7 per cent in 2007-08 to 5.24 per cent in 2008-09. Thereafter, even while the rest of the country recovered from the effect of global recession, the state's industry showed no signs of revival.
"It looked like something was happening but not yet happened. We could not encash our brand image. Expected investments did not come," says Federation of Andhra Pradesh Chambers of Commerce and Industry (Fapcci) Industrial Development Committee chairman, M M Sreeram.
Political disturbances erupted just at the time when opportunities came knocking at the doorsteps of  the state. "We also focused on the service sector and neglected the manufacturing front," he adds.
Stating that disturbances are leading to a delay in honouring contracts, Sreeram recalls that once it took  27 days for his company S&Umek Engineers Pvt Ltd, a manufacturer of high precision components, tooling and equipment, to send its consignment to Haridwar.
"In view of the current political turmoil, even banks are not giving money for industries in Hyderabad," Indian Machine Tool Manufacturers Association president and managing director of Lokesh Machines Limited (LML), M Lokeswara Rao, rues. LML is a supplier of automobile components to Mahindra & Mahindra.
"Major industries are now asking us to relocate our units. Mahindra want me to set up a unit in Pune as it is not confident that I will be able to supply the necessary components on time because of frequent bandhs.  I have no choice but to go ahead and set up a Rs 50-crore (Rs 500 million) unit in Pune," Rao says.
D Arun Kumar, president of AGI Glaspac, a unit of Hindustan Sanitaryware and Industries Limited, wants political parties to realise that the delivery of material in time "is paramount" in the present competitive environment.
In contrast, a senior leader of the Telangana Rashtra Samithi, B Vinod Kumar, rules out any hardships caused to the industrialists on account of the separate Telangana agitation. "No industry has shifted from the state due to the agitation," he pointed out at a recent meeting held by the Confederation of Indian Industry (CII).
P Ravindra Reddy, chairman of MTAR Technologies that manufactures precision machined parts for nuclear power reactors, and engine and structural components for aerospace and defence applications, agrees that the existing industrial units have not shifted from the state.
That is because it would be very difficult for a manufacturing unit to shift base. But this does not indicate that there are no problems.
Bureaucratic bottlenecks
He says there are several bureaucratic bottlenecks hampering the growth of the manufacturing sector in the state. "They call it single-window clearance but it takes 2-3 years to get the sanction. If you go to Gujarat, you get all sanctions including supply of electricity in 30 days," he informs adding, "there is no need for us to stay here with all these problems."
Former chairman of the state unit of CII and managing director of Malaxmi NBFA Ventures Private Limited, Y Harish Chandra Prasad, says the state is not getting even anchor units. "In fact, we are not at all good in manufacturing. Of late, we are trying to get into it but are facing problems," he states adding there s also lack of skill development in the state.
Prasad also feels that the state has focused for long on the service sector that provides white collar jobs and neglected the manufacturing sector, which generates blue collar jobs.
But what has happened to all those mega investment proposals? "Many of them seems to be just on paper," an industrialist commented. This could be as well true.
For instance, Asian Paints, which has a manufacturing unit at Pattancheru near Hyderabad , has been looking at setting up another plant in the state.
The company vice chairman and managing director, Aswini Dhani, said that the proposed second plant "would be a mega project. It would be the largest for Asian Paints. If not around Hyderabad, we are keen on setting it up in north-eastern part of the state."
However he admits that the company is yet to make an application to the state government in this regard.
Even the leaders of various political parties in the state think that the current atmosphere is not conducive to industrial growth.
At an all-party meeting organised by the CII here recently, Lok Satta Party president, Jayaprakash Narayan, said  entrepreneurs in the state today were feeling "insecure and this insecurity should be addressed."
Bharatiya Janata Party state president, G Kishan Reddy, also expressed concern that industry was shifting base and the state's growth was being hampered. State Congress-I spokesperson, N Thulasi Reddy, emphasised the need for a peaceful atmosphere for the growth of industry. Praja Rajyam Party leader and former minister for industries, K Vidyadhar Rao, said that the state had lost lot of ground on the industrial front in the past few years.
On their part, the industrialists said they wanted a "bandh-free" state.