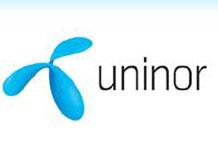 Uninor has said it would give tough competition in all the six telecom circles it operates in -- UP East, UP West, Goa, Gujarat, Bihar and Andhra Pradesh.

Earlier, the company had to shut operations in the Mumbai circle, following a directive by the Supreme Court.

"Competitive intensity has gone down significantly in circles where new competition such as Uninor no longer operates.

"In the circles we continue to operate in, we will continue to push ahead with the cheapest rates on basic services and take our fair share of the market," said Chief Marketing Officer Rajeev Sethi.

Competition in these circles would ensure low rates for customers, compared to circles that were less competitive, Sethi said.

In these circles, the company is also expanding its retail footprint, as well as operations.

Sethi said, "Uninor has taken a very clear and visible position of always being sabse sasta, or the operator with the lowest tariffs.

"This is a strong position to take. It is also one we will always keep."

The statement comes at a time when top operators such as Bharti Airtel, Vodafone India, Idea Cellular and Reliance Communications have started reducing promotional offers and free minutes.

Market share growth

Alok Shende, principal analyst and co-founder of Ascentius Consulting, said the company's move was a clear market share-buying strategy.

"They can maintain a marginal difference in pricing. But the important thing is to maintain the differential," he said.

Top telecom players have said rising input costs have made them rethink the free-minutes
strategy.
They added diesel costs had eaten into company margins (the fuel is required to operate base stations).
Uninor, however, says it would simply be efficient.
"An operator must have the ability to continue working at efficiency, or 'extreme efficiency', as we call it.
"In the UP East circle, Uninor's cost per minute is lower than that of the leading incumbent, despite a smaller scale. We carry more traffic per MHz of spectrum compared to any other operator.
"We see increasing costs as yet another reason to constantly chip away at inefficiencies and complexities within our operations," Sethi said.
Profitable this year
The company's operations in the UP East and Gujarat circles broke even in October and December, respectively.
"Our circles have now started breaking even on Ebitda (earnings before interest tax depreciation and amortisation), ahead of the three-year projected timelines.
"In fact, we have now advanced the cash flow break-even target to the end of this year," said Sethi.
The company is already among the top five operators in the circles in which it operates, both in terms of revenue, as well as subscriber market share.
"We are now building on this position to reach our break-even target within 2013," Sethi said.