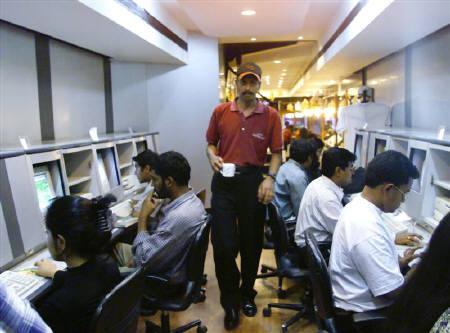 The telecom regulator's decision on its fate later this month may have a bearing not just on Facebook, but also on the future of internet in India
Will Facebook's Free Basics do to the internet what the East India Company did to trade in India two centuries ago -- monopolise it?
Or is Free Basics a philanthropic effort to provide internet access to people who otherwise can't afford it?
These are the questions central to determining whether Facebook will be allowed to offer its Internet service in the country or not.
For now, the Telecom Regulatory Authority of India has ordered the suspension of the service while it decides what to do next.
The outcome will be critical not just for Facebook, but also for deciding how the internet will work in the future in India.
Free Basics, as the name suggests, offers a limited version of the internet on mobile phones that includes access to certain news, health and job portals along with Facebook's social networking site and messaging services, free of cost.
The programme, launched 10 months ago in India, has triggered a huge debate on freedom of the internet.
Many believe free access to only a few websites discourages people from using other services and goes against the principle of net neutrality that calls for equal treatment for all internet services.
A wobbly start
Free Basics has invited opposition right from its launch in early 2015.
Many doubted the stated intentions of internet.org, as it was called then.
A dot.org, as opposed to a dot.com, is allocated to charitable organisations, but since the programme offers access to only a few handpicked services for free, activists were quick to call it a customer acquisition strategy.
Later that year, Facebook renamed 'internet.org' to 'Free Basics'.
A big shift was that it opened the platform to all developers, not just the websites and services it chose -- provided they met the platform's technical standards.
But activists aren't convinced still. To them, Facebook's motives appear mixed.
Since the government put Free Basics on hold late last month, Facebook has resorted to massive ad campaigns -- both in newspapers and on television -- to build public opinion in its favour.
"The avalanche of advertisements is meant not only to sway the citizens but also the regulators.
"If it's a charity, I do not understand why Facebook is spending so much money on advertising and calling out anybody who opposes it?" asks Mishi Choudhary, legal director at Software Freedom Law Centre and a campaigner of Save the Internet.
According to her, Facebook's initiative would have been more acceptable had it decided to provide free and full internet access to the poor by subsidising it for the telecom service providers.

The business side
The idea behind Free Basics is to draw people from low-income groups to the internet and prod them to buy paid data services at a later stage.
According to Facebook's research, about 50 per cent of those who access Free Basics go on to use general internet within 30 days.
With 130 million users in India (its largest market outside of the United States) -- and counting -- the scope of the business to be had for both Facebook and its partner, Reliance Communications, is immense.
For Facebook, the potential is in terms of online ad revenues; for Reliance Communications it means more customers for its data services.
In a Reddit Ask Me Anything on December 26, Chris Daniels, head of Facebook's internet.org initiative that oversees Free Basics, said: "People always say we have economic interests.
"Most businesses do. Our economic interest is best served by getting people to the full internet in this case. So that's the purpose of the programme."
After launching the service in Maharashtra, Gujarat, Andhra Pradesh, Tamil Nadu, and Kerala, Reliance Communications was preparing for its rollout in other states when the regulator intervened.
The immediate trigger was non-compliance to the regulator's demands. The terms of the services had not been disclosed to the telecom regulator, leading it to suspend the service last month.
The regulator is looking at framing a new policy the scope of which will include the issue of net neutrality.
It has sought public opinion on the matter and extended the date of submissions to January 7. It will analyse the suggestions before coming out with its final policy later this month.
Defending open Internet
The question of net neutrality has been at the heart of the backlash against Free Basics, rallying a number of start-ups, including e-wallet Paytm and food guide Zomato, in the fight against it.
"Facebook doesn't like what China does and it is building a China-kind of wall in India in terms of restricting access to applications and services," says Paytm Founder Vijay Shekhar Sharma.
He famously compared Facebook's tactics in India to those of the East India Company.

Former Chairman of Unique Identification Authority of India Nandan Nilekani says, "Today, what is at stake is choice, competitiveness and openness. That is what the internet stands for."
Activists are opposed to Free Basics because it is provided by Facebook, a commercial organisation.
They say internet firms using Free Basics are at an advantage over those that do not because of Facebook's sheer size.
"Today, anyone can put up a website without approval by a central authority and anyone else can access it," says Nilekani.
"If net neutrality is eroded, certain websites and businesses will have disproportionate share of the market, making it difficult for new entrants."
Facebook CEO Mark Zuckerberg has, however, through various posts and forum tried to explain how Free Basics supports net neutrality and is merely a platform that brings the unconnected online.
The programme has been successful in 37 countries, helping bring 15 million people online.

Facebook isn't the only one battling net neutrality activists in India.
Last year, Bharti Airtel had launched a free internet package -- 'zero-rated service' -- but had to withdraw the plan after backlash from proponents of free internet.
As things stand today, access to several applications and services at a discounted rate or nearly free of cost is common.
Experts say these services also go against the principle of free internet.
Globally, too, many companies have come under fire for violating the spirit of net neutrality.
In the US, T-Mobile, AT&T and Comcast have come under scrutiny because of their plans that allow customers access to certain streaming video services without incurring data charges.
Trai's final policy could have implications for these types of offers too.
"Our main issue is whether or not telecom operators can charge different prices for offering data services," says Telecom Regulatory Authority of India Chairman R S Sharma.
"The issue here is some sites are being offered to one person free of cost, while another is paying for it.
Is this a good thing and can operators have such powers? We will decide this through our recommendations by the end of January," he adds.
As Facebook lobbies for Free Basics with the Centre, one thing is clear: the debate over net neutrality is far from over.
THE TWO SIDES
FOR FREE BASICS
Brings online more internet users for free
Provides better visibility and market access for small app developers
Free Basics respects net neutrality
If people lose access to Free Basics, they lose opportunities offered by internet
AGAINST
Free Basics is a walled garden
Free Basics is against the spirit of openness of the internet
It will create digital monopolies and kill competition
Why don't Facebook and telecom companies provide free internet instead of Free Basics?
Image: A call centre in India. Photograph: Reuters
The image is used for representational purpose only