Will Infosys, which will announce its Q2 results on Tuesday, be able to break away from the single-digit growth rates the IT services sector has been seeing?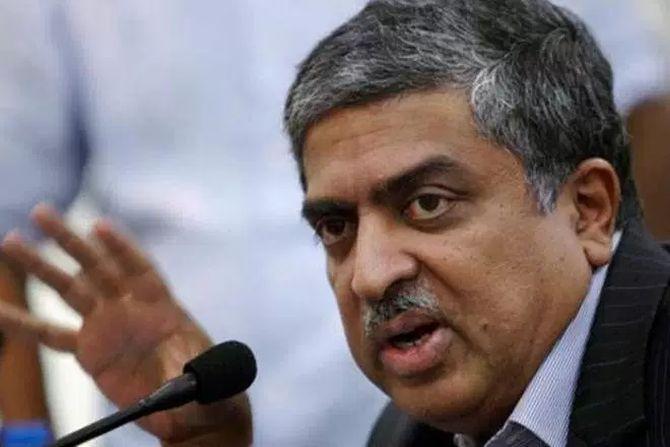 Numbers apart, investors and analysts are keen to hear the strategy that co-founder Nandan Nilekani, recently having taken charge as chairman, will unveil for faster growth than industry peers.
Since he took charge in August after a boardroom reshuffle following the exit of former chief executive officer (CEO) Vishal Sikka, he's asked key members Ravi Venkatesan and D N Prahlad, and senior executives, to prepare a growth plan for the next phase of the company.
Nilekani is expected to signal if Infosys would be able to break away from the single-digit growth rates the IT services sector has been seeing, tapping newer business opportunities.
"Expect CC (constant currency) revenue growth guidance (forecast) to be cut to 6.5-7.5 per cent and Ebit (earnings before interest and taxes) margin guidance to be maintained at 23-25 per cent year-on-year," wrote Urmil Shah, IT analyst at brokerage IDBI Securities, in a note on the expectation.
The strategy plan would also throw light on how much Infosys will deviate from Sikka's software plus services model.
Sikka, first non-founder CEO, who came with a promise to transform Infosys to a lean software plus services company with annual revenue of $20 billion, margins of 30 per cent and employee productivity at $80,000, admitted defeat after he failed to lift to faster growth, with a changing business environment.
He focused on increased adaption of artificial intelligence tools to improve productivity and thought of building a slew of software products that would be used to deliver services.
Controversy over the Panaya acquisition put an end to his plan.
Nilekani will indicate when a new CEO would be in place or if Pravin Rao would continue to be interim managing director and CEO.
India's IT industry is expected to grow in single-digit for a successive year in 2017-18 as global corporations spend lesser on traditional services and allocate more on newer ones such as digital and cloud.
While there is more business for digital services that generate higher margins, this has not offset the steep fall in outsourcing for traditional services.
Analysts say Infosys has an opportunity to build strategy around three areas.
"How do you help clients adopt software products in the consumer space and bring it into enterprises; help clients in managing the changing regulations due to technology shifts, and integrate applications and products for enterprises and manage it for them," says Siddharth Pai, a global consultant who has led over $20 billion in outsourcing contracts.
"These things should be done with minimal disruption to the existing business and workforce."
Tata Consultancy Services and Wipro have already disclosed their numbers, which beat the Street estimates. However Wipro's lower forecast was a dampener, say analysts.
Photograph: PTI Photo