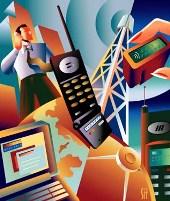 Armed with the Telecom Commission's recommendation to hive-off 773 acres of surplus land with Tata Communications (formerly Videsh Sanchar Nigam Limited), the department of telecommunications will soon approach Cabinet for a formal nod to start the process.

"A Cabinet note on VSNL land hive-off has been prepared and the matter will be sent to Cabinet soon," Telecom Minister Kapil Sibal said on a sidelines of a curtain-raising ceremony for the 'India Telecom 2011: m-powering India' event organised by industry body Federation of Indian Chambers of Commerce and Industry.

Earlier, the Telecom Commission, a decision-making arm of the Telecom Ministry, had recommended that the government pick up a majority stake in the special purpose vehicle created to execute the sale of surplus land lying with VSNL (now Tata Communications).

Further, replying to a question on the exit policy for new telecom operators which got licences in 2008, he said, "It (exit policy) will be incorporated in the New Telecom Policy-2011."

On the surplus land hive-off issue, the government will buy a stake of a little over 51
per cent in the special purpose vehicle.
Telecom Secretary and Telecom Commission chairman R Chandrashekhar had said that before making any investment to buy a stake in an entity, Cabinet approval is required. He added that the transaction details are yet to be worked out.
In 2005, Cabinet had approved an SPV to execute the transaction related to the surplus VSNL land.
Tata Communications had acquired the PSU in 2002, but the deal did not include 773.13 acres of land assets owned by VSNL, which have been lying unused following the acquisition.
The Telecom Commission also completed discussions on Telecom Regulatory Authority of India's recommendations pertaining to spectrum management and the licencing framework.
However, no final decision was taken on these recommendations.