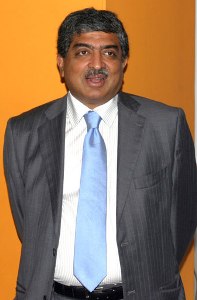 The Unique Identification Authority of India has selected three consortiums, led by tech firms Accenture, Mahindra Satyam and L-1 Identity Solutions, respectively, to provide technology solutions to capture the fingerprints and iris scans (known as biometrics) of the country's 1.2 billion people.
The consortia include algorithm and system integration providers.

The biometrics will be provided at Rs 2.75 per person, almost 70 per cent lower than the initial price UIDAI had pegged.
Each solution provider will receive Rs 2.75 per de-duplicated identity for the service.
"The competition was so tough that it beat our expectations of Rs 9. This is the lowest anywhere in the world," said an official.
 
The work will be divided in the ratio of 5:3:2 among the three.
"This means of the 10 fingerprints, five will go to the first company, that is Accenture, the next three will go to the second company, which is Mahindra Satyam, and the last two will go to L-1 Identity Solutions," the official added.

Accenture said under the terms of this initial contract, which will run up to two years or until 200 million enrollments (whichever comes first), it will build a new system to help manage identity-related de-duplication and verification requests from both public and private organisations.

"Accenture will also assist UIDAI in performance benchmarking and management of data quality for continuous improvement of the biometric solution, in addition to operating and maintaining the system," the statement added.
The Accenture team includes Daon, a global provider of biometric technologies, and MindTree.

L-I Identity Solutions intends to use the ABIS 7 multi-biometric platform to perform a one-to-many search of new enrolments against those already in the database, to ensure that the identity does not already exist under another name or alias.
Its consortium members are 4G Identity Solutions, which is providing L-1 with critical services, and Hewlett-Packard India Sales Pvt Ltd, which is providing it with middleware and hardware.

Separately, L-1 is marketing its Mobile Eyes iris cameras and Agile 10-fingerprint slap devices for use in the enrollment process, the devices will be available for purchase by authorised registrars and enrollment agencies through the enrollment, which is expected to continue over the next five years.
The other two companies that had been shortlisted but couldn't make it were Unisys and Cogent.
Image: UIDAI chairman Nandan Nilekani