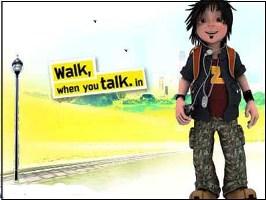 Zac has a problem staying fit; he has a paunch and needs to exercise. And there is a queue of people who want to take him out for a walk. They include Mahesh Bhatt, Yuvraj Singh, author Chetan Bhagat and actress and model Gul Panang.
Meet on the web as an extension of its 'Walk When You Talk' campaign. Users can ring up Zac on his Idea number and give suggestions on his fitness. He is available on Facebook and micro-blogging site Twitter, while moves are afoot to introduce him on Orkut as well. Zacs is getting about 2,000 calls a day and has a fan following of 8,000 people.
Idea joins telecom majors Vodafone Essar and Virgin Mobile to use the virtual space for brand awareness initiatives. Sony Entertainment Television was the first to use a comic character on the web -- Main Fekoo -- to promote its reality show, Champion Chaalbaaz No 1. Main Fekoo wrote blogs about the programme and uploaded promos on social networking sites.
"Digital platforms are emerging as a key enabler for brand-connect, especially with the youth. The intent is to create an engagement combining the digital and mobile medium aimed at the youth," Idea Cellular  chief marketing officer Pradeep Shrivastava says.
Idea has also launched another cartoon character, 'Dada' on the Web, coinciding with the launch of its services in Orissa. Dada is a tourist guide in Orissa's Puri and has no 'idea' of anything, but makes up for it with his affable nature. The character has his presence on the web through a portal (dadakiduvidha.com) and Facebook.
Earlier in April, Vodafone-Essar introduced its popular Zoozoos on Facebook and Youtube. The Facebook fan page received around 3,15,000 fan mails and over seven million page views during the first two months itself. In April, Zoozoos was subscribed 4 million times on Youtube, the highest in the country.
Vodafone-Essar officials say that the virtual fan base rivals that of Mickey Mouse and is greater than those of Archies, Donald Duck, Popeye, Asterix or any other cartoon character.
"With usage of Internet on the rise in India, its effectiveness as a dynamic medium of communications is growing rapidly",  Vodafone Essar Chief Marketing Officer Kumar Ramanathan said.
Recently, Vodafone released a Zoozoo Independence Day commercial on online, which also got around a million views within 24 hours.
Virgin Mobile India is another company that has put up its online character Pebo on Youtube, propagating its 50 paise per minute STD calls and other services. The industry expects other telecom companies to follow suit.