Tata Consultancy Services (TCS), the country's largest software services firm, has tied up with Saudi Aramco and GE to set up the first all-female BPO centre in Saudi Arabia, creating job opportunities for 3,000 women.
TCS and General Electric will own 76 per cent and 24 per cent, respectively, of the equity in the new venture, TCS said on Tuesday in a statement.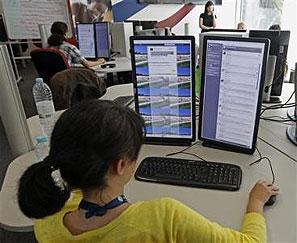 The centre in Riyadh will be staffed by Saudi females and will start by catering to Saudi Aramco and GE as anchor clients. It will help to localise the business process outsourcing (BPO) industry in Saudi Arabia, it added.
The three partners plan to scale up the new venture to create up to 3,000 jobs for professional Saudi females, it said. GE will create up to 1,000 employment opportunities for the initiative.
"We are helping to build the nation's capacity as it moves towards a knowledge economy by maximising local content, adding value through integrated industrial parks and promoting economic diversification and entrepreneurship," Saudi Aramco president and CEO Khalid A Al Falih said.
The centre will employ skilled graduates in the areas of finance, accounting, human resources management and supply chain management services.
"In recent decades, the world, including Saudi Arabian enterprises, has been outsourcing these functions offshore. It's time to bring those jobs home," Al Falih added.
Saudi Aramco is the world's largest exporter of crude oil and natural gas liquids.
The centre will eventually expand its customer base beyond anchor clients Saudi Aramco and GE to other companies and institutions across Saudi Arabia.
GE and TCS will also work with Saudi universities and educational institutions to launch specialised training programmes to achieve further job creation goals.