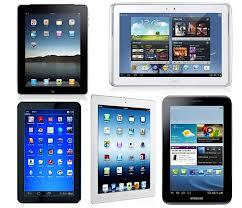 Over three-fourths of respondents covered in a survey spread across 20 Indian cities by market research firm CyberMedia Research have said that tablets will not replace PCs (desktops, laptops) anytime soon.

CyberMedia Research's India Tablets Consumer Usage and Adoption Trends 2013 study said that 3 out of every 4 users claimed mobility as a major reason to purchase a tablet with accessing social networking sites and entertainment, on the go, being their preferred activities.

"No, tablets won't replace PCs anytime soon! 78 per cent of the respondents surveyed were of the opinion that there is still some way to go before the tablet becomes the primary computing device," the study said.

The survey, conducted across 20 cities, covered a sample of 3,600 respondents, including users (2,400) and non-users (1,200) of tablets during September-November 2013. Face-to-face interviews were conducted with respondents aged between 13 years and 55
years.
Android operating system-based tablets are the most preferred, with 87 per cent respondents opting for them, while 10 per cent of them go for the Apple iPad.
Forty-three per cent of tablet users live in households with an earning of Rs 20,000-40,000 per month, indicating a potential for mass adoption, the study said.
Fifty-one per cent of tablet users spend more than two hours a day on their device, a positive trend, which is expected to increase in the near future, it said.
Around 40 per cent consumers use their tablets for chatting, messaging and email several times a day, indicating the emergence of tablets as a preferred mode of communication, the study said.
The trends from CMR's study indicate favourable times ahead for the Indian tablets market as nearly 10 per cent of non-users indicated a strong interest to own a tablet in the coming year.