US-based Sutherland Global Services announced the acquisition of Adventity Global Services, a business and financial research and analytical services company.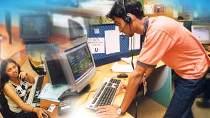 The 100 per cent acquisition was estimated to be for around Rs 2.5 billion (Rs 250 crore) and concluded through an all-cash deal.
This is the first acquisition the company has done in 24 years of Sutherland's existence
Headquartered in Rochester, New York, Sutherland is a business process outsourcing company with over 26,000 professionals and has 25 global delivery centers in the United States, Canada, Mexico, Nicaragua, the Philippines, Bulgaria, the United Kingdom and in India.
Adventity, with over 2,500 employees and operations in New York and Houston in the US, Dubai and in India (Mumbai and Chennai), is focused on providing platform-based BPO services to banks and financial services companies, and the airline & travel industry.
Dilip Vellodi, chairman and chief executive officer, Sutherland Global Services, said the company combined back-office and customer facing front-office services to drive productivity and deliver measurable results for its clients.
The offerings and approach at Adventity completely aligns with our strategic direction of expanding our presence in key verticals through platform-based integrated solutions.
The acquisition of Adventity will extend Sutherland's service capabilities and broaden the company's marquee client base.
The acquisition will give a flip to Sutherland's revenues, as the expected revenues from Adventity's business for the next year is about $50 million (around Rs 220 crore), while Sutherland's revenue is estimated to be around $500 million (Rs 2,200 crore) this year, said Vellodi.
"This acquisition has not been done to bulking up the revenues or profits. Sutherland has a bias towards organic growth. Tis is the first acquisition the company has done in 24 years of its existence&", he added.
This acquisition is part of a complementary vertical, geographic and services strategy.
For Sutherland, a majority of the businesses are from the US. Adventity has presence in Asia, Africa and Middle East. "Hence, this will extend our presence into these markets.