It looks like IBM is betting on Vaswani to replicate the success he had with Dell.
Illustration: Dominic Xavier/Rediff.com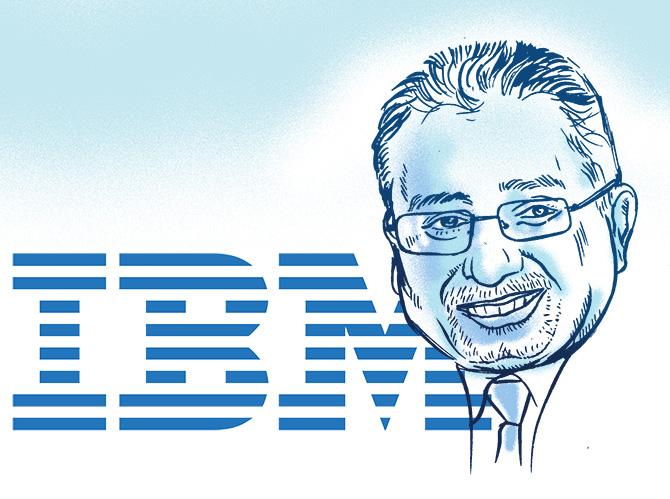 Suresh Vaswani , who helped build Dell's IT services arm and led the firm till its sale to Japanese NTT Data, is set to join IBM in August to drive the global technology delivery of the world's largest computer services firm.
Vaswani will replace Peter Lynt, general manager of delivery, solutions and transformation of global technology services, who is set to retire later this month, according to an internal note viewed by Business Standard.
He will be based in the US, driving the delivery of services for clients globally. An IBM spokesperson could not comment till the time of going to press while Vaswani was not reachable.
It looks like IBM is betting on Vaswani to replicate the success he had with Dell - by pushing higher-value services and offsetting the decline in traditional services.
Vaswani had built the services business for Dell in India as its chairman, helping the company to turn around and be profitable within three years.
Last year, Japanese NTT Data acquired the firm for over $3 billion, helping Michael Dell exit the services business after the Dell EMC integration.
Vaswani had quit NTT Data in January after the integration of Dell services with NTT Data.
Before joining Dell Services, Vaswani was a co-chief executive officer jointly with Girish Paranjpe, running the IT services arm of Wipro, before they were replaced by its founder and CEO Azim Premji.
IBM's move to rope in an Indian outsourcing expert comes at a time when the services industry is witnessing shifts in technology due to automation, growing impetus on digital and cloud and reduction in traditional IT services.
IBM, which reported losses for the 21st quarter in succession, is weighed down by its legacy business, including software, hardware and consulting services.
While it is seeing growth in newer business such as cloud, cybersecurity and data analytics, this has not been able to offset the decline in traditional services.
Vaswani has an engineering degree from the Indian Institute of Technology, Kharagpur, and a degree in business administration from the Indian Institute of Management, Ahmedabad.