BlackBerry (BB) maker Research In Motion (RIM) is targeting to associate with more than 100,000 registered developers to create innovative and user-friendly applications by 2014.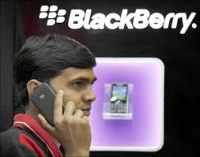 The company now has 28,000 registered developers, which is more than five-fold increase from 5,000 developers two years ago.

"We expect the same kind of growth for the coming years, and the number should cross the 100,000-mark by 2014," Annie Mathew, head (alliances and developer relations), RIM India, said.

RIM is launching its BB10 operating system in the Indian market this year and is projecting this growth on the back of it as "it is going to be so
much easier for the developers to actually develop on it," Mathew said.
Two-third of RIM's associated developers comprise start-ups. They include Sero Solutions, which is doing an NFC-based (near field communication) healthcare solution for BB, and i2i Telesolutions, which is developing an app on tele-ophthal (tele-ophthalmology is a technique where medical facility is taken to rural or remote areas by using computers, video conferencing and internet) for BB's Playbook tablet.
RIM follows a three-tier structure, taking associates, partners and developers from across the globe. It also has a BlackBerry academy programme, where it brings students to its platform and allows them to develop applications. Globally, RIM has over  50,000 applications.