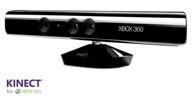 Gaming is going to get a makeover this November. And yes, that means you had better start saving some extra bucks to buy Microsoft's Kinect - a controller-free, gesture-based gaming device that allows one or more people to play.
We approach any new Microsoft product with a level of apprehension and it was the same for the exclusive preview of Kinect. But, to cut it short, Kinect is fun and is better, or at least, different from the Nintendo Wii.
Kinect, which will be sold as an add-on to the Xbox console, includes a motorised camera and microphone alongside sensors that can map out reference points along your skeletal frame. Actually, it maps a 3D image of your body frame with 48 graphic reference points that help the system capture your gestures accurately on the output screen.
Once you get through the initial inhibition of not holding any piece of hardware in your hand to control the game and instead start running on the spot, punching in the air or flailing your arms to act out game movements, you will see why Kinect is a social experience.
The experience

We strongly believe it was the bowling game in Wii Sports that catapulted the console to a casual gamer's level. Microsoft has clearly trumped Nintendo with its own version of Kinect bowling.
Taking the bowling ball is as simple as reaching left or right hand and gesture as if you are pulling and releasing the ball. By lunging forward and applying the force you would like to see on screen, the ball spins into action. It feels amazing to air-gesture.
Microsoft's game expert encouraged us to the throw the ball like a basket ball, using full force. Sure enough, the ball soared and bounced heavily on the lane (even cracked the floor in the game). The bowling game might just be Microsoft's killer tool on Kinect.
We were told that the ability of Kinect to detect feet movement is what differentiates it from the Wii, and this is demonstrated while you play Kinect Adventures.
Here, you balance a raft tumbling along river rapids and bend left or right to steer the craft. Fun begins when you have to air leap to jump ramps or collect game points. Two players can work together to control the raft, but you must talk to one another to plan moves, or end up with comically uncoordinated results.
Yes, there were moments when the Microsoft staff had to hold their hands over the Kinect sensors to force them to re-calibrate. But we were assured it was a beta product. Hence, the glitches.
The most worthy mention for Kinect games is the ease with which it changes into a two-player mode. As soon as a second person stands next to you in front of the TV, the Kinect system detects the other player and seamlessly transitions the game from one player to two. If the person leaves, it flips back to one. There's no pause, and no menu system to navigate.
Microsoft has really tried to make Kinect games a social experience. So, all the games have the ability to capture photos of the players in mid-game (using Kinect's camera) and display them for comical posterity. The idea is for the combined results to be sent to Facebook for your friends to enjoy. We found it an awkward feature.
Price and availability
Scheduled for release on November 4 in the US, we are assured by Microsoft that an India launch would happen by November end. The announced retail price of Kinect (console costs extra) is Rs 6,900 ($149.99) in international markets and, again, we were impressed with that price.
In India, the game would compete with the likes of Sony's PS2 (costs around Rs 6,000). Kinect will launch with a game library of about 14 titles.