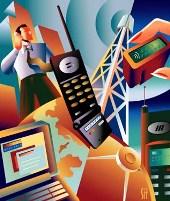 The much-awaited meeting of the high-powered ministerial panel on auction of telecom spectrum was deferred on Thursday.

The Empowered Group of Ministers headed by Finance Minister Pranab Mukherjee was first slated to meet at 1730 hrs on Thursday but was postponed to 2030 hrs. It later deferred indefinitely, official sources said.

No reasons were given for the postponement. Also no new dates have been indicated of the next meeting.

The EGoM was slated to discuss crucial issues of high spectrum price recommended by sector regulator TRAI, payment terms and network roll-out obligations for auction of airwaves due before August 31.

For
the first time, EGoM was to discuss loan against airwaves which are not a physical asset. Sector regulator Telecom Regulatory Authority of India has recommended an auction start price of Rs 3,622 crore (Rs 36.22 billion) per megahertz of airwaves frequency which amounts to over Rs 18,000 crore (Rs 18 billion) for pan-India business of new companies or companies whose licences were cancelled by Supreme Court on February 2.