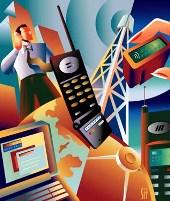 Mobile operating systems from the stable of the top three global brands -- Apple's iOS 5, Windows Mango and Google Android Ice Cream Sandwich -- vie for smartphone users.

With mobile OS becoming the new battleground for Google, Apple and Microsoft, it is the smartphone users who stand to benefit the most.

And, for those who are on the look out for a new phone and not committed to a particular operating system, make an informed choice based on the new OS updates.

Last week, the Windows Phone 7.5 (codenamed Mango) was launched a day before Apple iOS 5.

An ardent Apple user, Ellias Qureshi who runs a chain of internet cafes in Rohtak says: "I have an iPhone 4 and an iPod Touch. Apple released the iOS 5 update at about 11 p m on October 12 and I sat up till 3 a m in morning to update my devices."

Qureshi also owns an Android tablet PC and is looking forward to download Android's next update, codenamed Ice Cream Sandwich.

Qureshi claims he had to constantly unlock the device and open apps to see if there were any new messages on his email, Twitter, Facebook and Google+.

"That used to frustrate me, but now with the iOS 5 life's better.

"There are a number of notification types and a number of ways notifications are displayed.

"When my iPhone is locked and an application triggers a notification it will be displayed on the locked screen. I can also select the applications displayed on the lock screen and how those notifications are displayed."

The iOS 5, which powers Apple's iPad and iPhone devices, promises more than 200 new features, but a number of features are very similar to the ones used in Android and Windows Phone 7.

For instance, iOS 5 brings a new camera shortcut, accessible via the lock screen, reminiscent of a similar function in Microsoft's Windows Phone.

Joe Belfiore, corporate vice-president of Windows Phone program management, tweeted: "Feeling flattered today. Lots of great [Windows Phone] ideas headed to iOS."

Another Apple fanboy, Makrand Dandekar, who runs a restaurant in Pune, gushes: "I love the fact that Apple iOS 5 allows users to move away from the need to connect the device to the computer
to do anything." But points out that this new feature comes with a massive caveat -- the iPhone has to be plugged into a power source while updating as the battery drains out very fast in wireless sync.
Meanwhile, Microsoft's Windows Phone 7.5, also known as Mango, definitely presents itself as a more polished and potent contender for Apple and Android devices.
New handsets from manufacturers, including HTC and Samsung, have started shipping Windows phone with Mango update.
A software engineering student and a part-time developer, Roshan K says: "Unlike Apple's iOS, Google's Android and just about every other mobile-device operating system, a Windows phone doesn't present you with rows of icons representing apps.
"Instead, the home screen consists of a number of colourful tiles that represent the phone's key functions.
"These tiles can update themselves with new information, so that, for example, you can see your next appointment at a glance, or how many new e-mails you have received." Roshan, who owns an HTC Windows phone, recently upgraded his device with the Mango update.
Apple also challenges the popular BlackBerry Messenger app with its new iMessenger app that blurs the distinction between phone, text, email and SMS and MMS allowing users of iPhones, iPads and iPod Touch the chance to share photo's, videos and contacts as well as start a group messaging service. The technology will work over wireless (Wi-Fi) and 3G connections.
"Research in Motion's (RIM's) BBM cannot compete with the ease and functionality that iMessage should provide, so it is actually quite a worrying new feature for RIM," noted an analyst from research firm Jefferies. Additionally, the new iMessage also includes delivery & read receipts and secure end-to-end encryption just like BBM.
Jefferies' analyst Peter Misek believes that Google's Android Ice Cream Sandwich user interface will be broadly based on its existing Honeycomb UI.
"Ice Cream Sandwich is expected to bring features like expanding and resizing widgets and apps, facial detection with the camera and will allow Android devices to be used as USB hosts so that one can plug-in keyboards or Xbox controllers. It will additionally feature voice-guided GPS feature and Adobe Flash support."