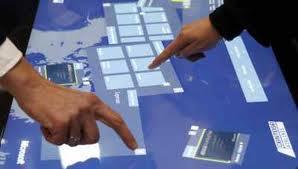 National Association of Software and Services Companies president R Chandrashekhar on Tuesday said the outlook for the IT sector was positive in the times to come.

"I think at this point it will be fair to say -- yes qualitatively we certainly expect it to be better. . . but how much better- it is too early to say," Chandrashekhar, who became Nasscom chief recently, told reporters in Bengaluru.

He said: "It is not going to be dramatic step up, but definitely I think the outlook is positive and we do see that the direction of change is up, not down."

Nasscom had estimated 12-14 per cent growth for the Indian software services industry in FY'14, and it aimed to achieve revenue of $300 billion for the IT industry by 2020.

Chandrashekar said "It is fine to say that we will grow from $100 billion to $300 billion, but it is not just about numbers -- it is about how much of a transformation can be effective, what kind of changes can be brought. . . ."

". . . . .how do each of these ecological evolutions that are taking place with the emphasis on IPs, platforms, new technologies like social media, cloud, analytics and mobility will have the potential to transform different sectors be it- financial service, health services, education services. . . ."

Stating that technology is evolving very quickly, he said: "Our ability to absorb them and use them in meaningful way- is where we are couple of steps behind."

"It certainly requires qualitatively different approach and a much greater degree of collaboration and interaction across different sectors," he added.

Pointing out that the industry is growing, he also acknowledged the presence and growth of entrepreneurial companies, the ecosystem which is supporting them, and their contribution in transformation.

Chandrashekhar said 'what is happening apart from growth today is -- there is very powerful ecosystem of start ups, innovative companies, entrepreneurial companies and the whole ecosystem involved in that.'

"There
are lot of these entities which are devising new products, new services, new innovations both business and service innovations; further heartening element is that. . . .they are related to problems that exist in our society and our economy," he added.
Noting down the focus areas before Nasscom, he said one of the major focus area will be- "how to grow and accelerate the growth of innovative ecosystem, entrepreneurship, products and IP; how can the domestic market be used to reinforce that; and how can that be plugged into the international market."
Throwing light on the challenges, Chandrashekhar said ". . .there are all kinds of issues whether it is issues relating to immigration, issues relating to data security, regimes that are in place in terms of investment, taxation- all of these issues exist in other countries and with in the country as well; we will have to continue to work on those areas and address them."
"I truly believe that these are areas where- it is not a question of India or Indian industry gaining at the expense of somebody, but gaining along with them and helping them to gain even more than what we are gaining," he added.
To a question on US immigration bill, Chandrashekar said ". . . .it (bill) is still in the work, we have spent as an organisation and industry considerable amount of time and energy in trying to put across the contribution of Indian industry."
"Indian industry is not only contributing to the competitiveness of American businesses, it is also a significant employer in that space, it is also carrying out training in order to contribute to reduce skill gap that exists. . . ."
Stating that the provisions in the bill are not conducive to achieving what- that economy needs and Indian industry wants, he said "we have tried to put that across, we believe that there has been fairly receptive hearing and that the rationale of what we are saying has been understood."
"We are quite hopeful that whatever comes out in the final version of the immigration bill- so far as the tech sector is concerned will be practical and meaningful, and would be in the best interest of American economy and business as well as the Indian IT industry."