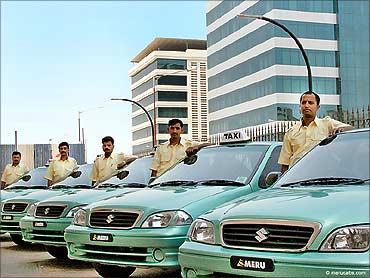 Not only can the person behind the wheel be traced but also how he's driving can be monitored
Recently, there were reports that the Karnataka government had imposed strict rules on app-based taxi aggregators and radio cab operators.
A web-based tech news portal also reported that drivers will have to be trained once a year on safe driving skills.
The number of hours the drivers put in will also need to be monitored.

This presents a dilemma for the likes of Uber and Ola, especially when it comes to quality monitoring of drivers.
Physical driver monitoring devices have been known to be expensive.

So, in steps Zendrive.
The US-based start-up, which has a tech development facility in Bengaluru and raised $13.5 million from Sherpa Capital, recently developed a machine learning system that uses sensors in smartphones to monitor driving.
Zendrive's founders, Pankaj Risbood, earlier with Google, and a former Facebook pro, Jonathan Matus, started the company after deciding travel wasn't as safe as they initially believed it to be. Both worked with big data and analytics and decided, what if there was a product that would sit in an existing app and process driving patterns?
"Over 90 per cent of people think they are above average to good drivers.
But, 30 per cent of fatal accidents in the US were caused by using the phone while driving," said Risbood.
The way it works sounds easy. "Smartphones have various sensors.
Most games even have accelerometers.
These can be turned outwards to measure the speed the vehicle is travelling at," he explained.
These sensors, coupled with GPS, can give accurate data on where the car is and if the driver is speeding. "These sensors even know how many times you touched the phone," he said.
The information collected is sent to a dashboard with the fleet owners, where the driver data can be processed.
The data can then be crunched to pre-empt scenarios. Based on the historical braking style, speed and road condition, the system can then send texts to the driver to slow down or maintain speed.
"We even incentivise drivers by sending them goals via text to achieve," Risbood added.
The results, he says, have been interesting. "Speeding was down 60 per cent."
The fleet driver system is built on trust and if these details are shown to the customer, 'stickiness' improves.
This also means the steep insurance premiums that aggregators and ride sharing companies pay can be controlled.
However, that will also need an overhaul in Indian insurance practices.
"Currently, insurance is based on the vehicle, not the driver. We are planning on running pilots to rate drivers and offer them an insurance accordingly.
Right now, telemetric devices imbedded in the car are used in some cases but that, too, is not turning out to be economical," said Sanjay Datta, chief, underwritting and claims, ICICI Lombard.
Zendrive has implemented the product in Western Europe and have signed on an insurance company in India (name not disclosed) as a client, it says.

Rishbood points to the clients he is currently working with as proof of the concept.
"We are working with Shuddle and Hopskipanddrive, two US-based companies, and the results have been very encouraging," he said.
The companies, typically, act as a Uber Pool for children, where parents can send a group of children to the same destination together and split costs.
"Safety is the product for these companies and that's what we can assure," he said.
Currently, Zendrive has a little over 100 clients and wishes to increase its India presence. "We want to start working with all fleet operators." said Rishbood.
He explains that with their tech base in Bengaluru and their product essentially needing only a smartphone, the world is their oyster.
Image: Meru cabs. Photograph: Kind courtesy, Meru