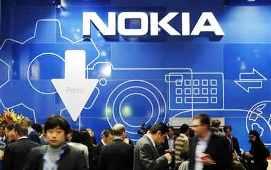 Nokia shares surged on Monday after it announced plans to buy out partner Siemans AG's share of their valuable network equipment joint venture, betting on the technology to run 4G networks after it stumbled as a maker of smartphones.

Loss-making Nokia gains full control of the profitable venture Nokia Siemens Networks for $2.2 billion, a cheaper than-expected price, analysts said, although they also noted the acquisition would put pressure on Nokia's balance sheet.

"With this transaction, Nokia buys itself a future, whatever happens in smartphones and feature phones," Bernstein analyst Pierre Ferragu wrote in a note to clients.

However, the cost to the balance sheet is still a risk for a company that is still burning through cash to keep its handset business running.

Nokia shares were up around 7 per cent to Euro3.04 0851 GMT. JP Morgan raised its rating on the shares to overweight from underweight, lifting its target price to 3.6 euros from Euro2.0.

Siemens shares were also more than 1.6 per cent higher, with analysts saying it was good news for the German firm to finally execute a plan to exit a business that had weighed on it with high restructuring costs.

Morgan Stanley said the price Siemens would receive for its stake was at the lower end of estimates, "however, in our view, the far more impactful point is that Siemens has managed to get this done."

Nokia's future has been cloudy since it fell behind rivals Apple Inc and Samsung Electronics Co Ltd in the smartphone race, making the decision to switch to Microsoft's untried Windows software in 2011.

In contrast to Nokia's phone business, NSN turned profitable in the second quarter of 2012 after slashing costs and as its focus on fourth-generation Long Term Evolution networks began to pay off.

NSN's adjusted earnings before interest and taxes amounted to Euro 196 million in the first quarter of this year.

Nokia will pay Euro1.2 billion in cash and the other 0.5 billion euros in the form of a secured loan from Siemens that will be repaid later.

"Nokia Siemens Networks has established a clear leadership position in LTE, which provides an attractive growth opportunity," Nokia Chief Executive Stephen Elop said in a statement.

Elop said NSN would continue to run as an independent entity and did not rule out listing or selling it.

"As for the future of NSN, as we've said consistently there is a range of options that could exist for NSN over time.

"All of those options remain open," he told a conference call.

For its part, Siemens has made no secret of its desire to exit NSN, having said often that the telecoms market is a tough one to be in, whether as an operator or as an equipment maker.

"The fact of the matter remains that this obviously is an industry which you rather avoid if you can help it," Chief Financial Officer Joe Kaeser told analysts back in November at the group's full-year results presentation.

Siemens said the sale price of its NSN stake was based on a fair valuation of the business according to the joint venture contract, without specifying the method used to determine its value.

Nokia and Siemens formed the 50-50 joint venture in April 2007 and the agreement lapsed in April this year.

Nokia had said it had wanted NSN to be sold or listed and many analysts had believed it might be sold.

Danske Capital portfolio manager Juha Varis said that some might prefer that Nokia's would do something to boost its cash position.

"If they want some buffer, maybe they should consider selling NSN manufacturing." Nokia said it expected to close the transaction, subject to regulatory approval, during the third quarter of this year.

Nokia said it estimated its net cash position was 3.7-4.2 billion euros, adding that if the NSN deal had closed in the second quarter, its net cash position would have been 2.0-2.5 billion euros.
(Additional reporting by Victoria Bryan, Peter Dinkloh and Christoph Steitz)