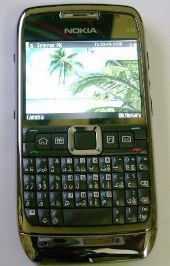 Falling back on its legacy, Finnish mobile giant Nokia has revived its Communicator phone and launched it in a sleeker and trendier avatar dubbed as E-7.
One of the first business phones from the stable of Nokia, the Communicator, which was popularly called the 'brick' for its bulky demeanour, was a status symbol among business tycoons.
The device was much celebrated in Hollywood and Bollywood. Not to forget, Val Kilmer, playing the character of an orphan Simon Templar in the 1997 remake of The Saint, using Nokia 9000 Communicator.
Back home, we have seen Bipasa Basu in the Madhur Bhandarkar movie - Corporate (2006) -- playing Nishigandha Dasgupta, vice president of a beverage giant, flaunting the device with elan.
The Nokia 9000 Communicator was the first product in Nokia's Communicator series, introduced in 1996.
The phone was huge and heavy (weighing about 397 grams) in comparison with its modern equivalent the Nokia E 7 which weighs only 176 grams.
In its annual Nokia World event in London, Nokia announced the launch of Nokia E7 full QWERTY smartphone.
Nokia E7 is a business smartphone boasting of a 4 inch touchscreen display.
E7 comes with an 8 megapixel camera and 16GB of on-board storage. The smartphone is able to shoot and edit 720p video and offers 18 days of standby time and up to 9 hours of talktime.
Business features of E7 include support for Microsoft Exchange ActiveSync, Mail for Exchange, Microsoft Communicator Mobile and Microsoft Share Point Server.
Unlike, its predecessors, who were mostly black and grey, Nokia E7, will come in Dark Grey, Silver White, Green, Blue, Orange. Expected to hit the market by Q4 2010, Nokia E7 is likely to be priced at 495 euros.
It is expected to hit the Indian market, at the same time. The message is clear from Nokia, that the Big is back albeit with a bang.