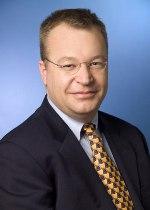 Stephen Elop has been appointed as the chief executive officer of Nokia by its board of directors. Elop, who currently heads Microsoft's business division, will replace the current CEO Olli-Pekka Kallasvuo and join the Nokia team on September 21.
Before joining Microsoft, Elop had held several senior executive positions in a number of US-based public companies, including Juniper Networks, Adobe Systems Inc. and Macromedia Inc.
Elop holds a degree in computer engineering and management from McMaster University in Hamilton, Canada.
"I am extremely excited to become part of a team dedicated to strengthening Nokia's position as the undisputed leader of the mobile communications industry," said Elop.
Olli-Pekka Kallasvuo will leave his current position as president and CEO of Nokia on September 20 and will join on the Nokia board of directors with immediate effect. He will continue to chair the board of Nokia Siemens Networks in a non-executive capacity. 
Nokia with old management was struggling in the competitive business and left far behind in the competition with rival companies like Apple or Google.