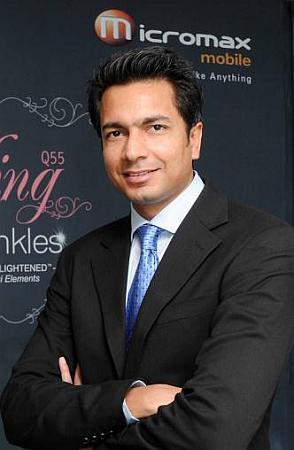 Through the next few years, Micromax would tap services in the areas of education, health and security, through partnerships

To ensure alternative revenue streams are in place, home-grown handset maker Micromax is set to venture into the services business.

Through the next few years, the company would tap services in the areas of education, health and security, through partnerships, said chief executive Vineet Taneja.

"It will take time. We don't see doing anything within the next two to three quarters.

"But it is true we are seriously exploring this area. This is part of our strategy to create new revenue streams.

"However, hardware will remain the primary revenue contributor through the next few years," he added.

As a business segment, services will take time to shape up.

Also, it would depend on alliances with the government, as well as with other vendors, said Taneja.

"We'll only get into those services that require extensive hardware integration, not look at the segment as just an application provider.

"Payments, as a service segment, might be looked at, but that will require robust partnerships."

Global handset majors such as BlackBerry and Nokia had entered the services segment a few years ago.

BlackBerry, for which hardware accounted for about 60 per cent of the revenue a couple of years ago, now earns about 39 per cent revenue from hardware, 54 per cent from services and seven per cent from software and other sources.

Micromax, which also sells televisions under its brand name, is working on wearable devices and accessories, too.

Through the next two to three quarters, the company will boost its presence in the accessories segment.

"It is too early for wearable devices. However, we are looking at the integration of wearables and accessories.

"Accessories are beyond covers and audio extensions.

"The ecosystem is changing fast. There'll be surprises for the consumers in the coming quarters," Taneja said.

He added the company's strategy was simple: listening to its consumers and surprising them often, but not confusing them.

He added Micromax was always a mass brand and would continue to be so.

"We don't dream to become a luxury brand," said Taneja, who earlier had stints at Samsung and Nokia.

Cheap products alone wasn't the answer, Taneja said, adding value was what helped device makers to retain consumers.

Through the past couple of quarters, the average price of Micromax products has risen about 10 per cent.

Micromax, which launched a five-inch octa-core smartphone, the Canvas Nitro A310, priced at Rs 12,990, on Monday, will focus on smartphones priced between Rs 10,000 and Rs 15,000, as well as the fast-growing tablets segment, in the near future.

The company is also betting big on its international business. It has already established presence in neighbouring Bangladesh, Sri Lanka and Nepal.

The company also has operations in Russia, which it hopes will push an entry into eastern Europe, where the handset business is retail-dominated, as is the case in India.

Markets such as Romania, the Czech Republic, Hungary, Poland, Slovakia, and African countries, are on the company's radar.

"We'll continue to explore entry across all developing markets," said Taneja. It might also consider countries such as Indonesia, Malaysia and Vietnam.

"One strategy does not fit all; consumer behaviour in every country is different," Taneja added.

The company will continue to import devices from China. It might also consider assembling in India.

"The scope for value-addition here is very limited, even today," said Taneja.
Image: Micromax co-founder Rahul Sharma. Photograph: Kind courtesy, Micromax